Baked Zucchini Gold Coins with Creamy Sunhera Masala Dipping Sauce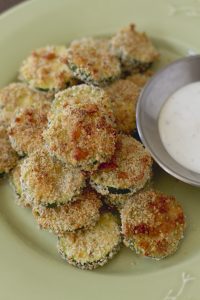 Author:
Sweet It The Spice
Recipe type:
Appetizer/Snacks
1 large zucchini cut into coins
½ cup plain bread crumbs
½ cup grated parmesan cheese
2 tsp. Sunhera Masala
¼ cup Olive oil to coat zucchini
Preheat oven to 450 degrees.
In a bowl, mix bread crumbs, parmesan and Sunhera Masala together.
In a separate bowl, fill with the olive oil.
Dredge zucchini in olive oil, then coat with the bread crumb mixture and place on a baking sheet covered with parchment paper.
Bake in oven for 20-25 min or until golden brown.
Recipe by
Sweet Is The Spice
at https://sweetisthespice.com/recipes/appetizerssnacks/baked-zucchini-gold-coins-with-creamy-sunhera-masala-dipping-sauce/