Fire Roasted Tomato Salsa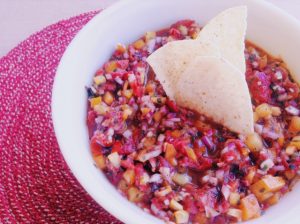 Author:
Sweet It The Spice
1 can fire roasted tomatoes (strain most of the liquid)
¾ cup red onion diced
1 cup yellow pepper diced
3 tbsp. fresh lime juiced
2 tbsp. fresh cilantro chopped
2 tsp. Spicy Barbacoa
Sea Salt to taste
Mix all ingredients in a large bowl.
Refrigerate for at least 1 hour before serving.
----------
Can also be made the night before.
Recipe by
Sweet Is The Spice
at https://sweetisthespice.com/fire-roasted-tomato-salsa/