Heart-Healthy Salad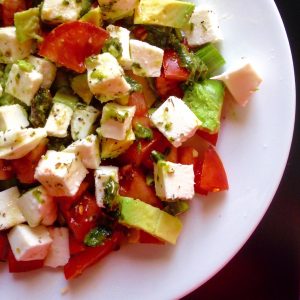 Author:
Sweet It The Spice
2 beef steak tomatoes or tomatoes on the vine diced
4 oz mozzarella diced
6 asparagus stalks cut on the bias in bite-sized pieces
1 avocado diced
2 tbsp. basil in a tube
1 tbsp. garlic olive oil from The Sacred Olive
1 tsp. Herbal Fusion
Pinch of sea salt and black pepper
Combine all ingredients in a bowl and fold until evenly coated with oil, spices and basil.
Serve immediately.