Pulled Pork Perfection in the Slow-Cooker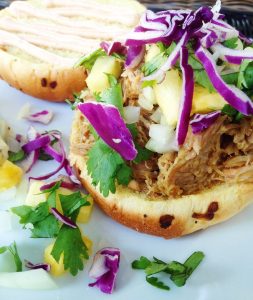 Author:
Sweet It The Spice
Recipe type:
Entree, Pork
6lb-8lb bone-in organic pork shoulder
¼-1/3 cup Secret Spice
¼-1/3 cup Spicy Barbacoa
Mix spices together in a bowl.
Dry rub the meat generously making sure to coat the whole pork shoulder.
Place pork in the slow-cooker with the "fat side" facing up. (This allows the flavor and juice to run down and cook into the pork.
Turn slow-cooker on low or high and cook for 7-8 hours or 10-11 hours according to doneness of the meat.
Put the lid on and go your merry way.
Once done, leave in the slow cooker and shred with large forks by pulling the meat apart. Discard any fat.
Leave the pork in it's juice and add more spices if desired or strain half and add bbq sauce, more spices and serve.
Recipe by
Sweet Is The Spice
at https://sweetisthespice.com/pulled-pork-slow-cooker-recipe/