Maple Bacon Meatballs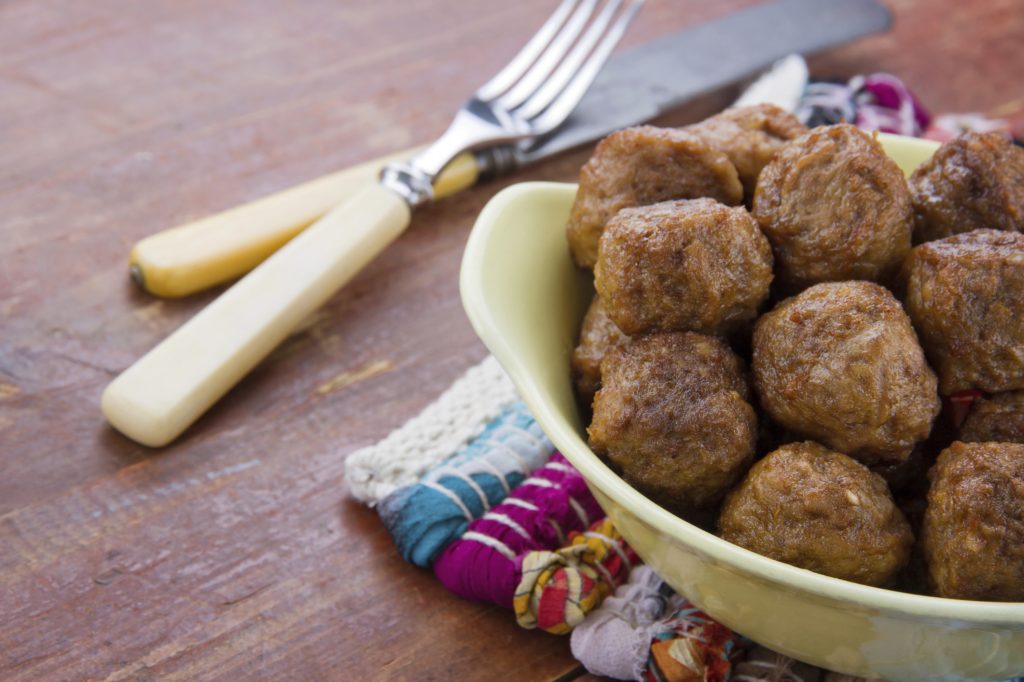 Author:
Sweet It The Spice
Recipe type:
Entree/Poultry/Beef
1 medium onion diced
4 garlic cloves minced
2 tbsp. olive oil
½ tbsp. plus 1 tsp. sea salt
1-1/2 tbsp. plus 1 tsp. black pepper
1 cup cooked bacon pieces (about 15 strips) drained and cooled
2.5 lbs. ground turkey (or beef, or a combination of the both)
¾ cup panko bread crumbs
1 tbsp. Herbal Fusion
¼ cup organic dark maple syrup or Grade B
2 tbsp. Worcestershire sauce
1 tbsp. balsamic vinegar
Preheat oven to 350 degrees.
In a sauté pan drizzled with 2 tbsp. olive oil, sauté onion on medium heat.
Add salt and pepper and sauté while mixing together for about 3 minutes.
Add in garlic and cook for another 3 minutes.
Turn off heat and set aside.
In a large mixing bowl, add turkey, bacon, breadcrumbs, Herbal Fusion, maple syrup, Worcestershire sauce, balsamic vinegar, ½ tbsp. salt and 1-1/2 tbsp. black pepper.
Add in cooled onion mixture and mix with clean hands until all ingredients are incorporated.
Form 2 inch meatballs and place on 2 parchment paper lined baking sheets.
Bake for 15-20 min.
Remove and serve immediately.