Salted Caramel Sauce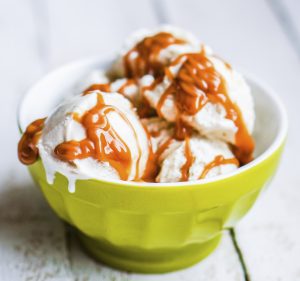 Author:
Sweet Is The Spice
¾ cup sugar
3 tbsp Sweet & Salty Surrender
¼ cup water
3 tbsp unsalted butter
¾ cup heavy whipping cream
Stir sugar, Sweet & Salty Surrender and water together in a large saucepan on medium to high heat.
Stir and scrape bottom of pan until all sugar has dissolved, about 1 minute. Then, allow mixture to boil.
Once boiling, set timer for 10 minutes until mixture turns a dark amber color. Watch pot carefully but do not stir.
Turn heat to low and carefully and slowly add in the heavy whipping cream while whisking until combined.
Lastly, add in butter and stir until completely melted.
Take off heat and allow to cool in a dish or a 2 cup mason jar with the lid off.
Once cooled, store in the refrigerator for up to 2 weeks.
Reheat in the microwave for 30 seconds or so before each use.