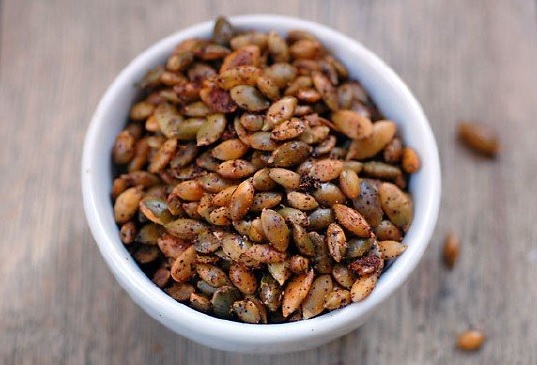 Spicy Pepitas
A healthy snack by itself or toss in a salad, add to trail mix or granola for a spicy little kick.
Author:
Sweet It The Spice
Recipe type:
Appetizer/Snack
Ingredients
½ cup organic pumpkin seeds
½ tsp. organic canola oil
1 tsp. fine grain sea salt plus ½ tsp. for sprinkling
1 tsp. Spicy Barbacoa
Method
Preheat oven to 325 degrees.
In a large saucepan, fill halfway with water and add 1 tsp. salt.
Turn heat on medium and boil.
Once boiling, add pumpkin seeds and boil for 10 minutes.
Drain contents of pot in a colander.
Transfer seeds to a paper towel and pat dry.
Toss seeds with oil in a container with a lid until well coated.
Add in ½ tsp. sea salt and toss again until coated.
Spread seeds on a parchment paper lined baking sheet and bake for 10 minutes. Outer shell should be a light golden color.
Transfer to a dry, clean container with a lid and add the Spicy Barbacoa.
Toss until coated.