Blueberry Maple Balsamic Reduction is versatile and easy to make.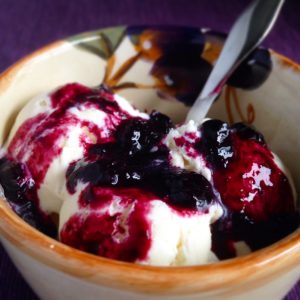 Use my Blueberry Maple Balsamic Reduction as a sauce for pork chops and grilled salmon or make blueberry maple balsamic popsicles! It's also amazing on vanilla ice cream, bagels with cream cheese, toast, waffles or pancakes. We may even make a cocktail out of this!
Get our Sweet & Salty Surrender blend to make this.
Also, try this recipe with The Sacred Olive's, Maple Balsamic Vinegar!

Blueberry Maple Balsamic Reduction
Author:
Sweet It The Spice
Recipe type:
Reduction, Dessert
Ingredients
2 cups frozen blueberries
¼ cup balsamic vinegar
¼ cup organic maple syrup
½ tsp. lemon zest
2 tsp. fresh lemon juice
1 tsp. Sweet & Salty Surrender
Method
In a medium saucepan pour in balsamic and blueberries and set heat to medium.
Stir and cook for 4-5 min.
Once ingredients begin to boil, reduce heat to low (uncovered) and add all remaining ingredients. Stir and smash blueberries with a spoon. Reduce for 25 min or until sauce has reduced to half and thickened.
Remove from heat and let cool. Store in a glass, airtight container for up to 2 weeks in the fridge. Heat slightly before adding to fish or pork.
Can also be used to make popsicles or can be spooned over ice cream.