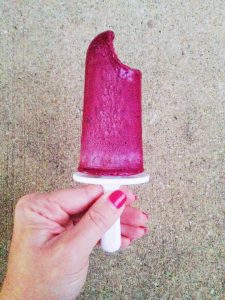 Blueberry Maple Balsamic Popsicles are sweet and savory with the freshness of "just picked" blueberries.
A delicious treat any time of year.
Last year, my mother-in-law and I picked 20 pounds of blueberries each at Eenigburg's Berry Farm in Demotte, IN. My husband comments almost every time he opens the freezer regarding how much space 20 pounds of blueberries takes up. I have to agree…it takes up a ton of space. So I created Blueberry Maple Balsamic Popsicles out of my blueberry maple balsamic reduction! The recipe for the popsicles turned out so good that even as a tried to photograph the last popsicle in the batch, I couldn't help but take a bite out of it. I just barely squeaked out a picture due to my lack of self-restrain.
Several days later, I see my sweet neighbor and her mom outside with the baby. She says she saw the Blueberry Maple Balsamic Popsicles on Instagram and they looked so good. I told her that I honestly would've offered her and her mom one, but I ate them all. Luckily, I had Cocoa Dulce Cherry Popsicles and Strawberry Fields Popsicles for them to try which are truly delicious as well.
Before you decide to make these Blueberry Maple Balsamic Popsicles, make sure you have plenty of popsicle molds at the ready!!!
Blueberry Maple Balsamic Popsicles
Author:
Sweet It The Spice
Recipe type:
Frozen Treats, Dessert
Ingredients
8 oz light unsweetened coconut milk
¼ cup unrefined sugar
⅓ cup blueberry maple balsamic reduction
Method
Pour coconut milk in a blender.
Add in the remaining ingredients and blend to liquefy the ingredients together.
Pour in reusable popsicle molds.
Freeze for 8 hours or better yet, overnight.
To make the
blueberry maple balsamic reduction
you will need our Sweet & Salty Surrender blend.
Get it here!