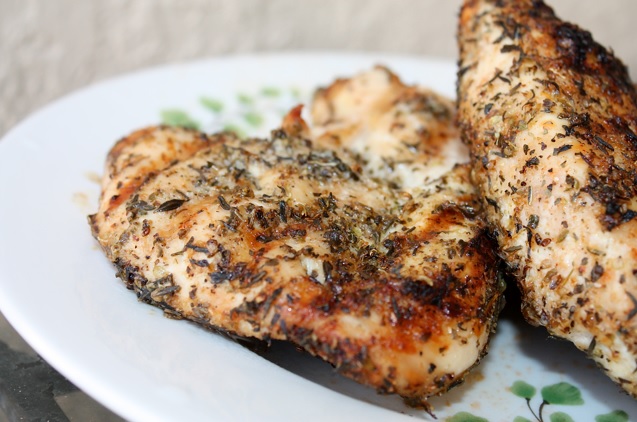 Grilled Chicken
Super moist and flavorful. Chicken shouldn't be dry... allow your chicken to rest before cutting into it will ensure the juiciest chicken.
Author:
Sweet It The Spice
Ingredients
4-6 oz organic chicken breasts fresh or thawed from frozen
4 tsp. extra virgin olive oil
4 tsp. Herbal Fusion
Sea salt and black pepper
Method
Preheat grill to 350 degrees.
Rinse chicken and pat dry with a paper towel.
Season both sides of chicken with salt and pepper.
Drizzle about 1 tsp. olive oil per chicken breast.
Season each side of chicken with ½ tsp. of Herbal Fusion.
Place chicken breasts directly on grill and cook for 4 minutes.
Rotate 45 degrees and grill for another 4 minutes. (There should be noticeable grill marks present.)
Flip chicken over and grill for another 5-6 minutes. Resist the urge to cut into the chicken to check for doneness.
Remove from grill and let rest on a plate or cutting board for 2 minutes before serving.
***Please note the thickness of your chicken breasts. Larger pieces may need to be pounded down for more even cooking. Simply place chicken breast in a Ziploc bag and pound with a kitchen hammer or rolling pin making sure to even out chicken breast.