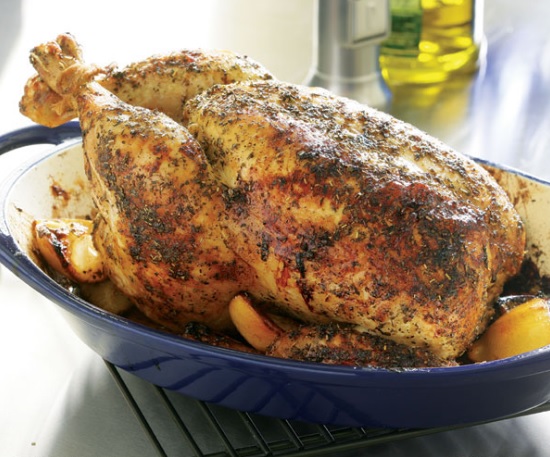 Roasted Chicken with Lemons and Onions
Roasting a whole chicken ensures the most tender and juicy meat. With just a few ingredients, take boring chicken to beautiful and delicious with minimal effort.
Author:
Sweet It The Spice
Recipe type:
Entree/Poultry
Ingredients
5 lb. organic free-range fresh whole chicken
2 tbsp. unsalted butter room temperature
1-1/2 tbsp. Herbal Fusion
1 tsp. sea salt
1-1/2 tsp. black pepper
10 garlic cloves cut in half.
2 onions cut in large chunks
1 lemon cut crosswise into thinly sliced wheels
2 lemons cut in half
2 lemons cut in wedges
Method
Preheat oven to 375 degrees.
Remove pouch from inside the cavity of the chicken and set aside for use in stock or discard.
Rinse chicken inside and out and pat dry with a paper towel.
Place in a roasting pan.
With clean hands, rub chicken with the butter all over being sure to get between the wings and thighs.
Lift skin of chicken with breast side up slowly pushing your fingers towards the top of the chicken. Keep bits of butter under the skin being sure not to break the skin.
Sprinkle with salt, pepper and Herbal Fusion both inside and out.
Insert onion chunks from 1 onion along with the halved lemons and half of the garlic inside the cavity.
Disperse about 1 to 1-1/2 of the onions around the outside of the chicken along with the lemons cut into wedges and wheels and the remaining garlic.
Roast in the oven for 1 hour 20 min to 1 hour 30 min.
Insert a thermometer in the thickest part of the leg. Thermometer should read an internal temperature of 160 degrees.
Remove from oven, tent with foil and a kitchen towel and let rest for 10-15 minutes.
Remove onions, lemons and garlic from the cavity of the chicken and place in a bowl along with the pan juices.
Carve the chicken.
Serve the onions, lemons, garlic and pan juices with the chicken at the table.