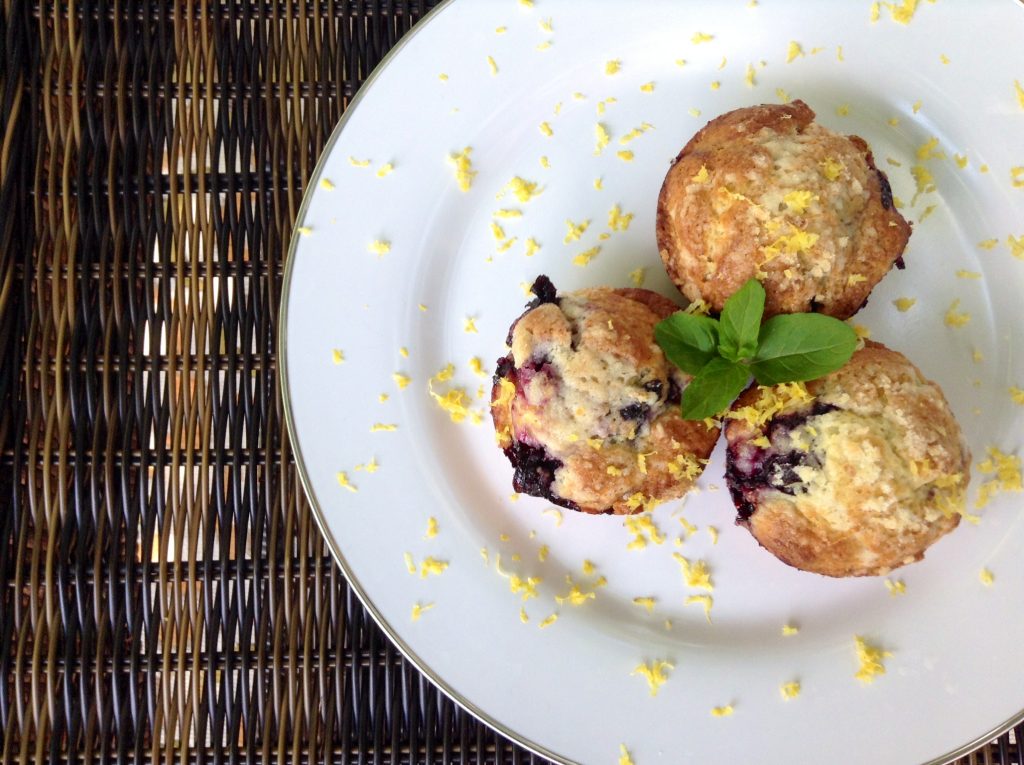 Mascarpone Blueberry and Lemon Muffins
Author:
Sweet It The Spice
Recipe type:
Breakfast or Dessert
Ingredients
Topping
1 tbsp. cold unsalted butter diced
2 tbsp. sugar
2 tbsp. flour
½ tsp. lemon zest
¼ tsp. Sweet & Salty Surrender
---------------------
2 cups all purpose flour
¾ cup sugar
2 tsp. Sweet & Salty Surrender
1-1/2 tsp. baking powder
1-1/2 tsp. baking soda
8 oz mascarpone
1 egg
2 tbsp. milk
¼ cup non-gmo canola oil
½ tbsp. lemon zest
2 tbsp. fresh lemon juice plus 1 tbsp. reserved
1-1/2 cup frozen or fresh blueberries
Method
Preheat oven to 375 degrees.
In a small bowl, add all of the topping ingredients and mix and mash with a fork to create a crumble. Set aside.
In a large bowl, combine the first 5 ingredients, stir to combine and set aside.
In a medium bowl, add in the next 6 ingredients and mix with a hand mixer until all of the ingredients are incorporated and the mixture is smooth and creamy.
Add wet ingredients to dry ingredients and mix with a hard spoon. (The batter will be pretty thick at this point.
Add in the last 1 tbsp. of lemon juice and continue to mix until well combined.
Last, fold in the fresh or frozen blueberries gently. (*see note)
In a greased muffin tin sprayed with coconut oil, spoon in the batter about ¾ of the way up. Using your fingers, sprinkle the topping generously over each muffin.
Bake for 20 min.
Once done, remove and let cool in the tin for about 10 min. Then remove each muffin carefully and allow to completely cool on a wire rack. Serve with extra fresh lemon zest on top.
---------------------------------
*Note-If using fresh picked blueberries that were frozen to prolong freshness, rinse first before using and pat dry. Do not add blueberries directly to batter. Instead, fill each tin with batter about ¼ of the way up. Add berries to each of the tins with batter, then spoon more batter on top to ¾ of the way up and finish off by adding berries on top of batter.
Get our Sweet & Salty blend to make this recipe!