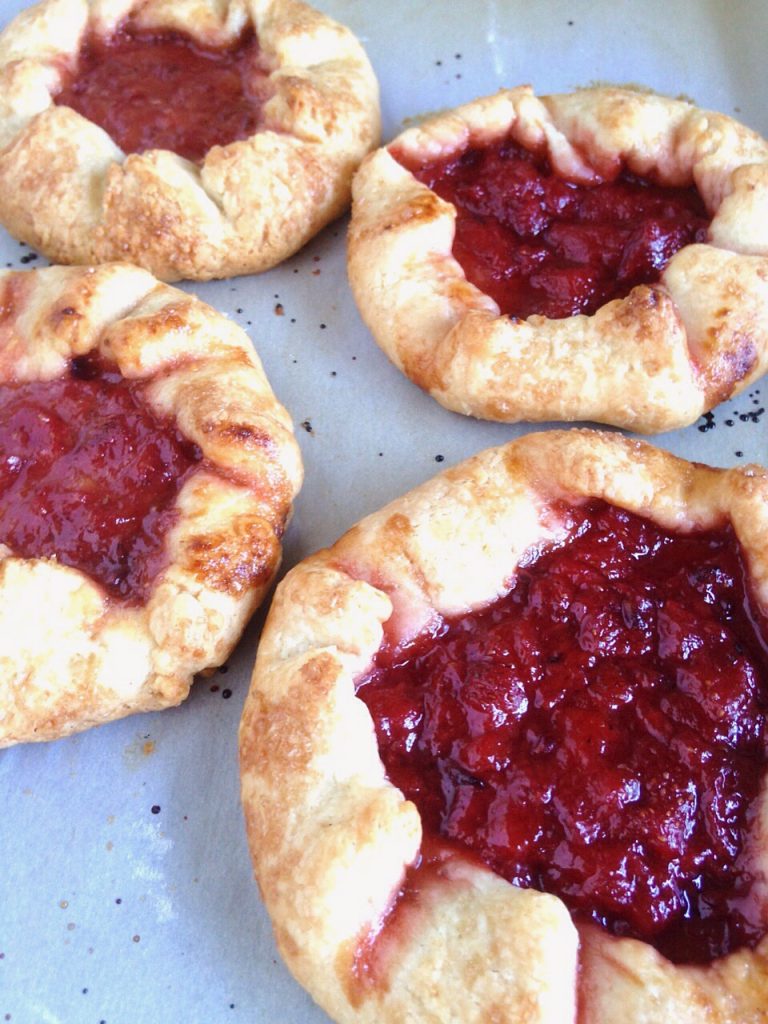 This is a great dessert that only takes 2 essential ingredients to make! Our Strawberry Fields Forever Jam and ready-made pie dough, (or your favorite pie dough recipe.) What makes these galettes so great is their rustic look. A "messy" pie doesn't seem nearly as appealing to me as oozing and bubbling jam seeping out of crevices from inside this crust. And no fork or knife is necessary for these hand held desserts in my rule book.
For a little more decadence, add a little fresh whipped cream!

Strawberry Fields Galettes
Author:
Sweet It The Spice
Ingredients
1 ready made pie crust thawed or use your favorite pie dough recipe
¾ cup Strawberry Fields Forever Jam
4 tsp. cornstarch
Almond milk for brushing
Optional-Sugar for sprinkling
Method
Preheat oven to 450 degrees.
Line a large baking sheet with parchment paper.
Using your hands, roll pie crust into 1 large ball and then divide into 4 even pieces by cutting with a knife.
Reform each section into a ball.
Roll out each ball into a 6 inch diameter disk.
Transfer to the baking sheet.
Do this for each remaining disk.
Sprinkle about 1 tsp. of cornstarch onto each disk.
Spoon 2-3 tbsp. of jam onto center of dough leaving about 1-1/2 inches around the edges.
Fold outer edges inwards and pinch the crease. Do this all the way around.
Brush with almond milk.
Optional-sprinkle tops of dough with sugar.
Place in the oven and bake for about 15-17 min or until dough has browned slightly.
Remove and let cool.
Get the recipe for Strawberry Fields Forever Jam here!