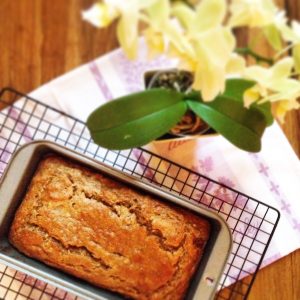 This recipe was featured by The Feed Feed community website in their "DIY Holiday Gifts" feed during Christmas.
Get our Sweet & Salty Surrender blend to make this recipe.
This will definitely be a family favorite!

Sweet Is The Spice Banana Bread
Author:
Sweet Is The Spice
Ingredients
1-1/2 cups all purpose flour
½ cup coconut sugar
2 tbsp Sweet & Salty Surrender plus 1 tsp to sprinkle on top
2 tsp baking powder
½ tsp baking soda
2 eggs
4 really ripe bananas
¼ cup walnut oil (such as La Tourangelle)
¼ cup water
1 cup walnut pieces or walnuts roughly chopped
OPTIONAL-Substitute our Sweet & Salty Pecans roughly chopped
Method
Preheat oven to 350 degrees.
Mix first 5 ingredients together in a large bowl and set aside.
In a medium bowl, beat eggs with a whisk.
Add bananas. Using a potato masher or fork, mash bananas, but leave chunks for added texture.
Add in oil and water and mix with a spoon to incorporate.
Add the wet ingredients to the dry ingredients and stir until well combined. (Batter will be thick and lumpy.)
Add in nuts and stir to combine.
Spray 4 mini loaf pans or 1 large loaf pan with coconut cooking spray.
Fill pans halfway with batter and bake.
Mini loaf pans about 30 min.
Large loafs 55-60 min.
Cool bread in pans on wire racks for about 15 min.
Remove and place on wire racks to cool before serving.