These classic chocolate cupcakes are filled with a wonderful Strawberry and Chocolate Jam made by my friend Amisha who owns The Jam Lab. Her product is organic and she sources the strawberries from a local farmers market. Incorporated in this moist and cake-y cupcake is our very own Cocoa Dulce blend. This blend adds just enough sweetness along with subtle warm flavors keeping this cupcake balanced. And to finish it all off, a delicate real strawberry frosting with bits of strawberry that have been reduced down in their own juices. The end result is a cupcake that won't make your teeth hurt. This recipe will make 12 cupcakes total…so for my husband and I, freezing just the cupcake is a perfect way to have a treat without turning on the oven.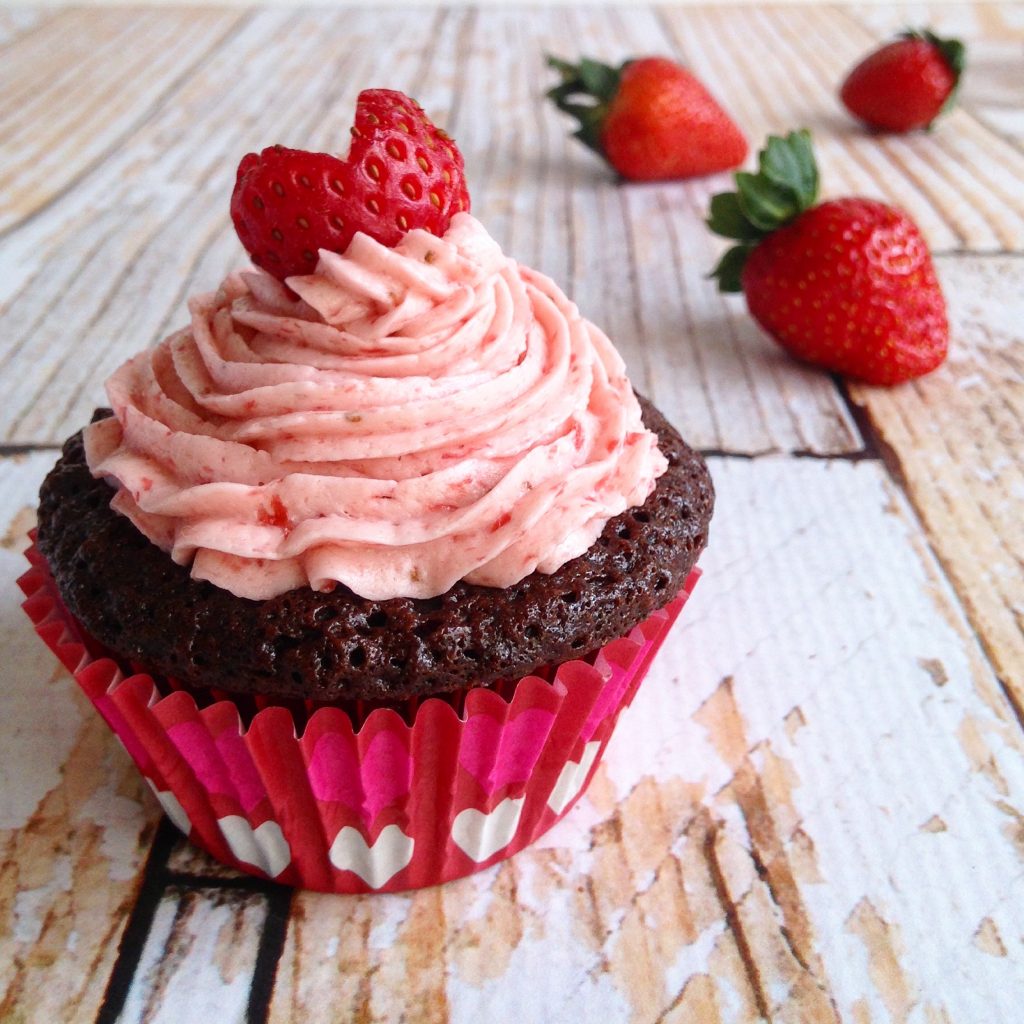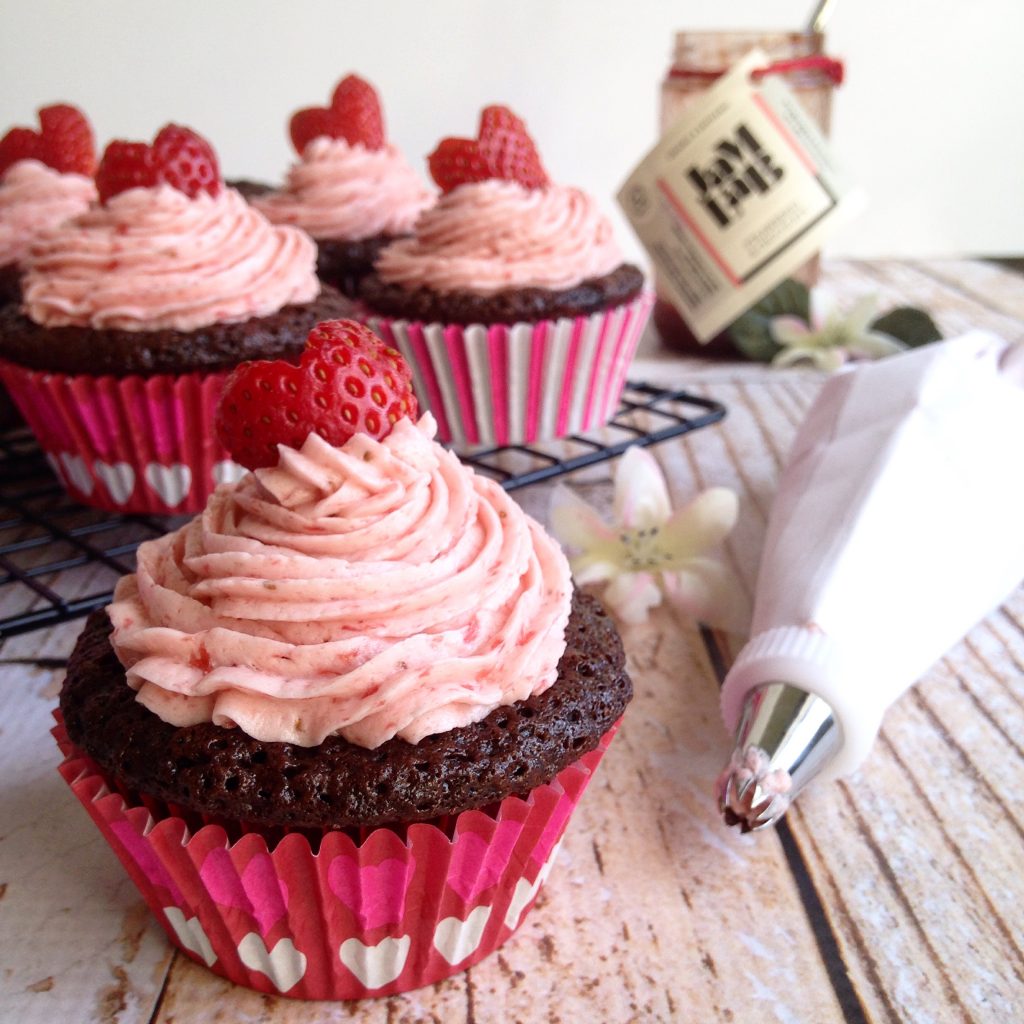 Strawberry and Chocolate Filled Classic Chocolate Cupcakes with Strawberry Frosting
This cupcake recipe is an adaptation from www.sallysbakingaddiction.com.
Author:
Sweet It The Spice
Recipe type:
Dessert, Cake, Cupcake
Ingredients
¼ cup Cocoa Dulce
¼ cup all natural cocoa powder (not Dutch processed)
¾ cup all-purpose flour (spooned and leveled)
½ tsp. baking soda
¾ tsp. baking powder
½ tsp. Sweet & Salty Surrender
2 eggs (room temperature)
½ cup coconut palm sugar unrefined
⅓ cup coconut oil melted
2 tsp. vanilla extract
⅓ cup buttermilk
Method
Combine Cocoa Dulce, cocoa powder, flour, baking soda, baking powder and Sweet & Salty Surrender together in a large bowl. Set aside.
In a medium bowl, combine the eggs, coconut palm sugar, coconut oil and vanilla together with a hand whisk.
Pour half of the wet ingredients in with the dry ingredients and mix with a hand whisk.
Now pour in half of the buttermilk and gently whisk again.
Finish with the remaining wet ingredients and whisk and then the buttermilk and whisk.
Simply combine the ingredients without over mixing.
The batter will be thin.
Line a cupcake pan with paper liners or spray with cooking spray.
Fill liners about halfway to ¾ of the way up.
Bake for about 20 min. Test with a toothpick by inserting into the center and removing. If the toothpick comes out clean, remove the cupcakes from the oven.
Remove cupcakes and allow to cool on a wire rack completely before filling and frosting.
Once cooled, use a paring knife to cut a circular hole about an inch around and ½ inch deep.
Spoon the Strawberry and Chocolate Jam from The Jam Lab into the hole of the cupcake and cover with the piece of cupcake that was just cut.
Press the top down slightly to even out.
Frost with Strawberry Frosting.
Real Strawberry Frosting
Author:
Sweet It The Spice
Recipe type:
Dessert, Frosting
Ingredients
1-1/2 cup fresh strawberries finely diced
1 stick unsalted butter (room temperature)
2-3 cups powdered sugar sifted
1 tsp. real vanilla extract
Method
Put strawberries in a medium saucepan and turn heat on to medium.
Heat berries stirring often, allowing berries to reduce down to about half its original size. Keep berries to a simmer while stirring.
Set aside and let cool to room temperature.
In a large mixing bowl, whip butter with a hand mixer until fluffy.
Add ½ cup of powdered sugar and continue to whip.
Add ½ of the berries and juice and incorporate with hand mixer.
Add another ½ cup of powdered sugar and whip.
Continue to add powdered sugar until desired consistency is achieved.
Add vanilla and whip.
If frosting becomes too thick, add a tsp. of milk to thin out and whip with a hand mixer.