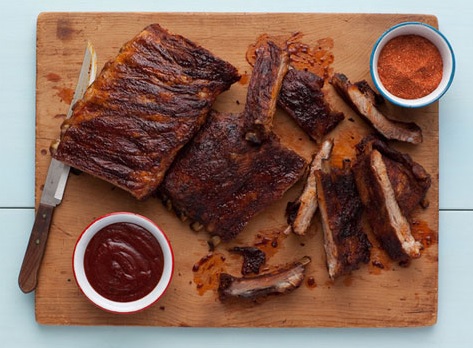 The recipe for these ribs was created well before the concept of Sweet Is The Spice was even imagined. The Secret Spice blend has become the flagship of our company and we hope you enjoy this recipe as much as we do. Click on: Secret Spice to pick up our flagship blend today!

Secret Spice BBQ Ribs
Each rack (about 12-15 ribs) should be cut in half. With side dishes, a half portion is a generous serving.
Author:
Sweet It The Spice
Ingredients
Baby Back Pork Ribs (with membrane removed)
A generous amount of Secret Spice (at least ¼ cup per rack or 12-15 ribs)
Method
Preheat oven to 350 degrees.
Place ribs in dish side by side, leaning them against each other. (I'll braise 2 full racks per baking dish.)
Fill with water halfway and then cover completely and tightly with aluminum foil.
Braise ribs for 2 hours.
Once complete, remove from dish and let cool until ribs can be handled.
Sprinkle and rub Secret Spice on the front and back of ribs generously.
Wrap each half slab with plastic wrap and place in the refrigerator until ready to grill. (You can also braise and refrigerate the day before serving allowing spices to tenderize the meat.
Remove from refrigerator at least 30 min before grilling.
Heat a grill to 350 degrees.
Using a BBQ brush, brush on your favorite BBQ sauce generously on both sides of ribs, allowing it to heat through about 6-7 min on each side. Continue to baste with BBQ sauce if necessary.
Serve immediately.
*Optional-Ribs can also be heated on the grill without BBQ sauce if you prefer them dry vs. wet.