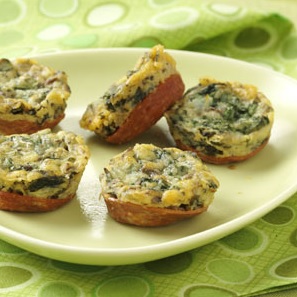 Mini Frittatas
Super mini frittatas filled with protein and veggies. Perfect for your "littles" for breakfast or as a quick snack for yourself straight from the fridge.
Author:
Sweet It The Spice
Recipe type:
Breakfast/Snack
Ingredients
7 eggs
¼ cup water
1 pepper chopped
½ cup baby spinach chopped
1 tbsp. Herbal Fusion
Shredded cheese of choice
Bacon pieces optional
Add any combination of veggies, cheese or meats to your liking.
Method
Preheat oven to 350 degrees.
Spray an 18 cup muffin pan with coconut cooking spray (preferable).
Whisk eggs and water together.
Add Herbal Fusion and whisk until well combined.
Pour mixture into each muffin cup filling only halfway up.
Add pieces of meat, veggies and cheese (in that order).
Bake for 10-15 minutes or until eggs have set.
Remove and let cool briefly, the serve.
Store in an airtight container in the refrigerator for up to 1 week.