There's nothing more "eggcellent" than a slow-scrambled eggs skillet.
I used to prefer my eggs scrambled when I was younger, however over the years, graduated to having them cooked over medium to over easy, to poached. With all of the cooking and recipe experimenting and testing that I've done in the last couple of years, I've found that my most favorite way to eat eggs are poached and slow-scrambled.
A really nicely poached egg eliminates the need for sugary, high-sodium, preservative laden condiments on sandwiches for example, or doubles as a protein packed salad dressing. A slice of toast, pesto, leftover chicken, pork or turkey, avocado, greens, tomato, a poached egg and some spices…you've got breakfast, lunch or dinner. It's flavorful, satisfying and oh, so delicious.
Slow-scrambled eggs are creamy and almost custard-like. By cooking them slowly on a lower heat setting on the stove-top, the end result is anything but dry and bouncy. Add a little butter or olive oil while cooking, (being sure to stir the eggs very frequently with a spatula,) then add shredded cheese, onion, bacon, spinach and tomatoes, mushrooms (if that's your sort of thing,) and you've got a hearty breakfast or brunch that was simple and delicious to prepare.
TIP:
Use Sunhera Masala, Spicy Barbacoa, Herbal Fusion and/or Secret Spice on your eggs. Or, combine any of these spice blends to create additional levels of flavor. Make a skillet by adding leftover potatoes, or if you've made a stop to your local farmer's market, add in extra veggies and make a frittata or quiche, (with a ready-made pie crust). Your spice blends will lend all of the flavor to the richness of the incredible, eatable egg.
My husband and I enjoy breakfast or brunch at a local restaurant near our home, Pomegranate Café. We always order the Popeye's skillet with a side of pancakes and large link sausage. Because of the amount of food they serve, we always share and we ALWAYS order the same thing every time. Usually, several cups of coffee are drank along with the occasional mimosa. It makes for a lovely Sunday brunch!
Here is the recipe for our Slow-Scrambled Egg Skillet inspired by Pomegranate Cafe!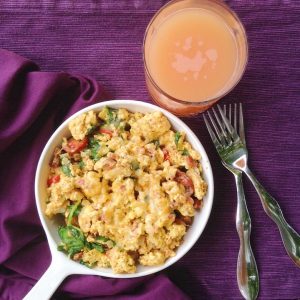 Slow-Scrambled Eggs Skillet
Author:
Sweet It The Spice
Recipe type:
Breakfast, Eggs
Ingredients
⅓ cup onion diced
¼ cup cooked bacon pieces
2 tbsp. olive oil or butter
6 large eggs
2 handfuls baby spinach
½ cup cherry tomatoes sliced
½ cup shredded cheese
¾ cup leftover roasted potatoes heated
Method
Sauté onions, bacon and olive oil on medium heat for about 3 minutes.
Meanwhile, whisk eggs in a dish and pour over sauté mixture.
Turn the heat to medium-low.
Using a spatula, stir and fold eggs frequently until eggs start "setting up."
Add spinach.
Continue to cook and stir allowing the spinach to wilt.
Add cheese and tomatoes and fold together until melted.
Eggs are done when there is no liquid in the pan and not soaking wet.
Add potatoes to dish or skillet.
Add eggs on top and serve.