Got an interesting and tasty new jam recipe for ya! If you want a lot of flavor in a short amount of time, try my star fruit and jalapeno jam.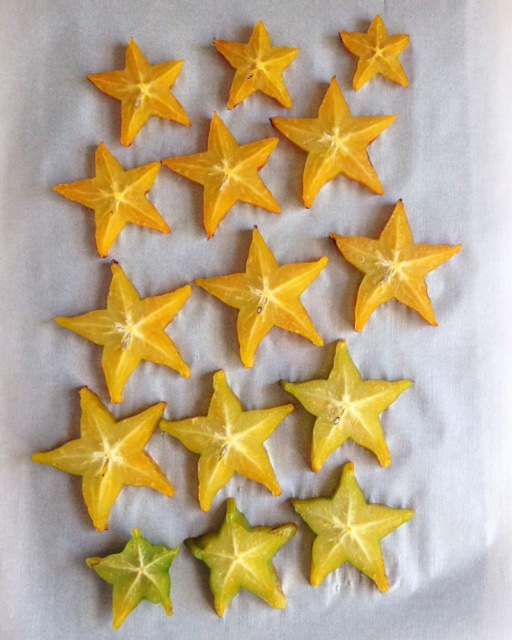 It lends a bit of sweetness from the star fruit along with a savory and slightly "heated" flavor from the jalapeno pepper. I picked up a star fruit from my local grocery store. I've found both small and large star fruit in shades of color ranging from green to yellow to orange. A green star fruit hasn't yet ripened and will be tart in taste. Leave it on your kitchen counter to ripen  and watch it change color…to yellow and then to a yellowish-orange color. Now it's sweet, juicy and tender. Wash it up real well, slice it cross-wise and consume, peel and all. It's delicious on it's own or added to salads or yogurt.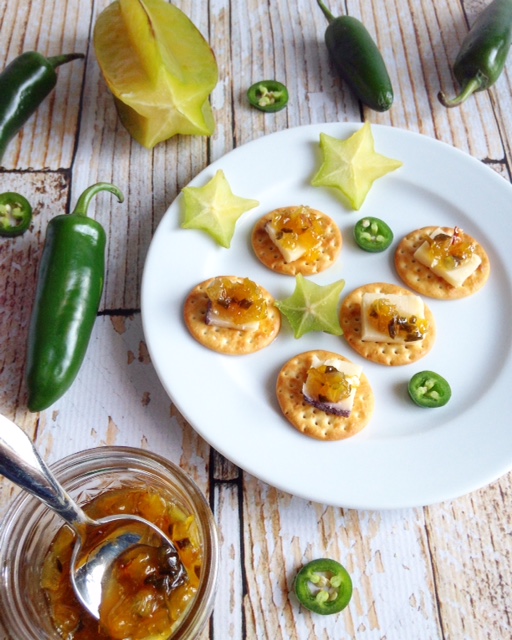 In this recipe, the whole star fruit gets chopped up and cooked down with just 4 other ingredients, leaving you with a sweet and savory jam that is delicious with cheese and crackers, cocktails, crepes, pancakes, toast…you name it!

Star fruit and jalapeno jam
Delicious with cheese and crackers or on pancakes, crepes or use in cocktails!
Author:
Sweet It The Spice
Ingredients
1 large star fruit ripened (mostly yellow to orange in color) finely chopped
1 jalapeno seeded and finely chopped
½ cup granulated sugar
1 tbsp. lemon juice freshly squeezed
1 tsp. Sweet & Salty Surrender
Method
In a medium saucepan add all ingredients then stir to combine.
Turn heat to medium and bring to a simmer.
Simmer for about 20 minutes stirring occasionally.
Turn off heat and allow to cool.
Mixture will become thicker once cooled. If mixture sticks to the back of a spoon, it is done. If not, put back on the heat for another 5 minutes.
Store in a glass container in the fridge for up to 2 weeks.