Banana Pancakes are the perfect way to use up really ripe bananas.
This recipe includes 3 bananas. The riper they are, the better! The sweetness from the bananas alone is enough to alleviate the need for additional sugar. An added bonus if the family is cutting back on processed sugars. I've added Sweet & Salty Surrender to these banana pancakes that give a hint of maple and add just a hint of savory. If you are using organic ingredients for these banana pancakes, rest assured that Sweet & Salty is also organic! You'll be making these banana pancakes again and again. Enjoy!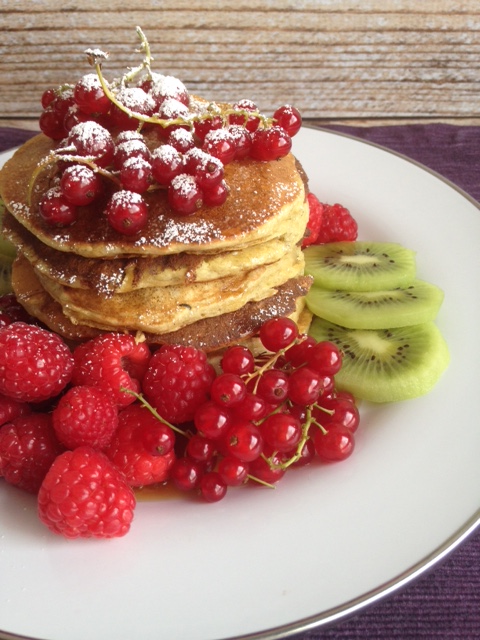 Banana Pancakes
Author:
Sweet It The Spice
Ingredients
1 cup all purpose flour
2 tsp. baking soda
1 tsp. baking powder
1 tbsp. Sweet & Salty Surrender
3 really ripe bananas
2 tbsp. walnut oil
1 cup almond milk unsweetened
2 tsp. real vanilla
2 egg yolks beaten
1 egg white
Method
Mix first 4 ingredients together in a large bowl and set aside.
In a medium bowl, mash banana with a fork or potato masher.
Add in walnut oil, milk, vanilla and beaten egg yolks.
Mix ingredients to combine.
Add wet ingredients to dry ingredients.
In a separate bowl beat the 1 egg white until frothy and a stiff peak forms.
Fold egg white into the pancake batter several times until incorporated.
Heat a cast iron skillet sprayed with cooking spray. (I like using coconut spray from Trader Joe's)
Using a ladle, pour pancake batter onto skillet and let cook for about 3-4 min. (Or until bubbles form. Check for doneness with a pancake flipper when pancake is a golden brown.)
Flip over and cook for another 2 min.