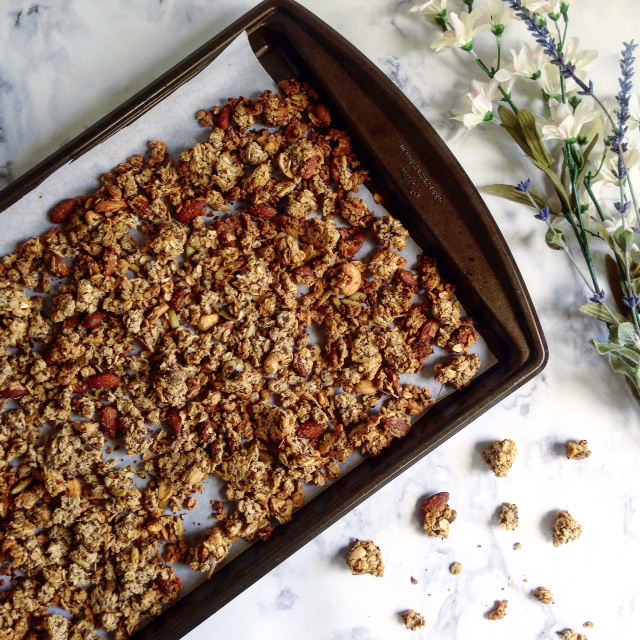 This Spiced Coconut Granola with Apricot Honey is so good, you'll want to put it on everything!
This granola is filled with tons of "good for you" ingredients, but you wouldn't even know it because you'll be too busy munching away on it. It's super portable, absolutely gift-able, amazingly versatile and totally delicious. I grabbed a little inspiration from my friends @thejamlab and @displacedhousewife for their tips and tricks and added my own finesse and creativity for a granola that is sure to please. Fill pint size glass jars with this homemade health snack and store in your pantry.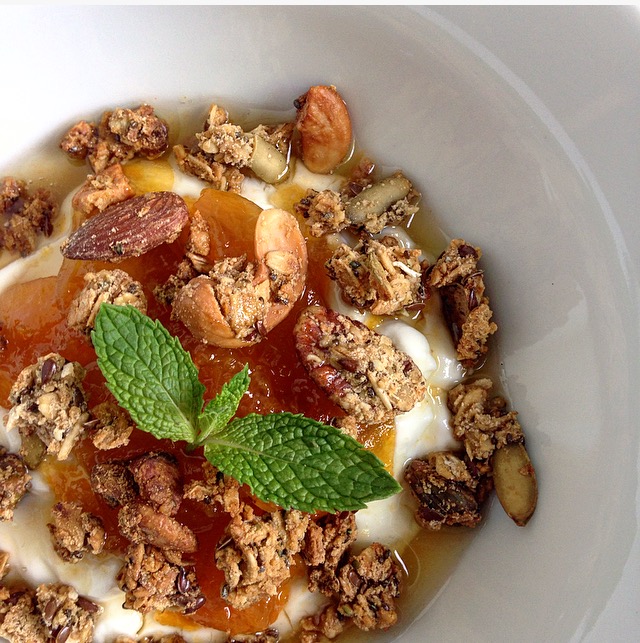 Spiced Coconut Granola with Apricot Honey
Better than store bought and so good, you'll have this recipe on repeat!
Author:
Sweet It The Spice
Recipe type:
Breakfast, Condiment, granola
Ingredients
3 cups rolled oats
1-1/2 cups unsalted mixed nuts (I used Planter's cashews, almonds, pistachios, walnuts and brazil nuts
½ cup coconut flour (I used Bob's Red Mill)
½ cup packed dark sugar
½ cup sweetened shredded coconut
⅓ cup flaxseeds
½ cup hulled hemp seeds (I used Isagenix)
2 tbsp. chia seeds
⅓ cup organic pumpkin seeds (I used Trader Joe's. They are green in color)
⅔ cup water
¼ cup coconut oil
1 ripe banana (about ½ cup)
3 tsp. real vanilla
1 tsp. pure almond extract
2 tsp. whole cardamom ground fresh (Use a coffee grinder or spice grinder, or use store bought)
1 tsp. ground ginger powder
¼ tsp. whole clove ground fresh (Use a coffee grinder or spice grinder)
¼ cup Sweet & Salty Surrender
Method
Position oven rack to the top third of your oven, and preheat oven to 300 degrees.
Line (2) 9X13 baking sheets with parchment paper and set aside.
In a medium bowl, mash the banana. Leaving a few small chunks is okay.
Add water, apricot honey, coconut oil, vanilla, almond extract, cardamom, ginger and clove and stir to combine. Set aside.
In a large bowl, add oats, nuts, flour, brown sugar, shredded coconut, flaxseeds, hemp seeds, chia seeds, pumpkin seeds and Sweet & Salty Surrender.
Mix to combine.
Add the wet mixture to the dry mixture and stir with a spoon being sure to incorporate all of the ingredients together.
Spoon half of the mixture onto each baking sheet being sure to drop some of the mixture in clumps around the baking sheet.
Place in oven for 30 minutes.
Using a spatula, flip granola over to bake on the other side and place back in the oven for another 30 minutes.
(Knowing your "hot spots" in your oven and keeping a consistent temperature will ensure a nicely browned and toasted granola without burning. If you choose to bake both pans simultaneously, be sure to rotate and move pans from top to bottom for an even bake.)
Remove granola from oven and allow to cool on pans completely before storing in glass air-tight containers.