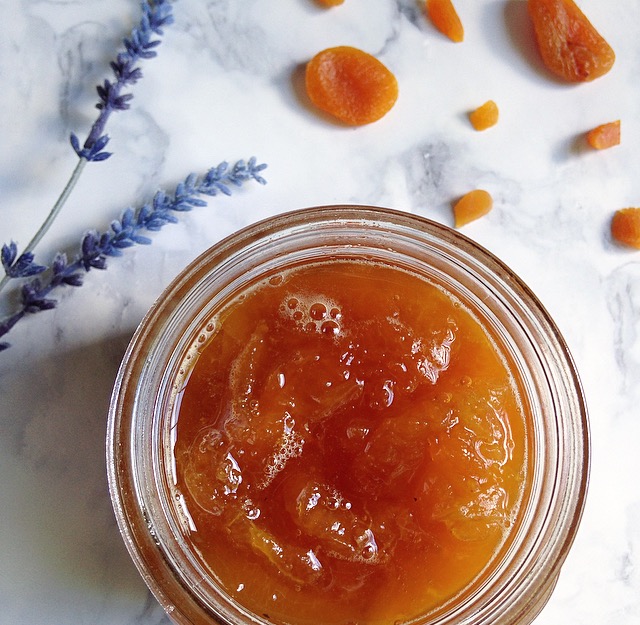 I'm in love with these apricots! Aside from this recipe being delicious on it's own, I've added this on top Greek yogurt with a sprinkling of homemade Spiced Coconut Granola (using the apricot honey from this recipe,) and some mint, and I've mixed into oatmeal. As America's Test Kitchen suggests, this would also be wonderful over ice cream and pound cake.
A couple of things about this recipe; The type of honey you use will alter the flavor of these apricots. Depending on the flower(s) that the bees used to create their honey could range from subtly sweet to robust. I chose a combination of 2 different honeys. One of my most favorite kinds of honey is Madhava, Organic Raw honey that is 100% unfiltered. It's a little pricey but totally worth it. It can be found on Amazon, Whole Foods or possibly your local grocery store. I also used wildflower honey that was sourced by a local beekeeper and gifted to me by a friend. Go ahead and experiment! There is no right or wrong kinds of honey to use for this recipe, but most importantly, support your local beekeeper! Your end result is sure to be fantastic.
Lastly, I found my yield to be less than what America's Test Kitchen's cookbook, "Foolproof Preserving," had stated. Two possible reasons come to mind; I may not have reduced the initial syrup long enough, leaving me with an abundance of syrup and an uneven ratio of syrup to apricots. The other possibility is that I over-boiled the apricots. I have ceramic non-stick pans that tend to heat up very quickly which in turn has me adjusting cooking times against the suggestions of the recipes. Below is the actual Test Kitchen recipe, however if you also find that you ended up with an over-abundance of syrup, have no fear! Strain that extra apricot honey syrup and bottle it in a swing-top glass bottle. It's air-tight and I store it in my pantry. I used this to make my homemade Spiced Coconut Granola with. Use it in a cocktail, create a vinaigrette with it, add it to a marinade for chicken or substitute this for plain honey in a recipe.

Greek Apricot Spoon Sweets
This recipe is from America's Test Kitchen's cookbook, "Foolproof Preserving".
Author:
Sweet It The Spice
Recipe type:
fruit, condiment, breakfast, dessert
Ingredients
1-1/2 cups granulated sugar
1 cup honey (I used ¾ cup Madhava Organic Raw honey and ¼ cup local wildflower honey)
1-1/2 pounds ripe but firm apricots, pitted and each cut into 8 wedges
2 tbsp. bottle lemon juice
Method
Boil sugar, honey and water in a Dutch oven or large pot over high heat.
Stir and adjust heat as needed until syrup measures 2 cups, about 10 minutes.
Add apricots and lemon juice and return to boil.
Reduce heat to medium-low and simmer, stirring and adjusting heat as needed until apricots have softened and released their juices, about 5 minutes.
Remove pot from heat.
Clean 1-2 pint jars in hot water and shake dry.
Using a funnel and slotted spoon, gently pack apricots into hot jars.
Ladle syrup over apricots to cover.
Let fruit cool to room temperature, cover and refrigerated for 24 hours before serving.
Fruit can be refrigerated for up to 6 weeks.
Background: @inkandelmbackdrops