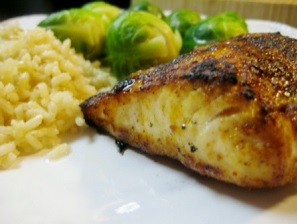 This is a quick and simple recipe sure to be a crowd pleaser!
Get Sunhera Masala on our site.
To add extra flavor that elevates this dish, try The Sacred Olive's, Organic Persian Lime Olive Oil and Coconut White Balsamic Vinegar simply drizzled on top after grilling. It's spectacular!
Mahi Mahi
Author:
Sweet It The Spice
Ingredients
6 oz fresh mahi mahi filet
Extra Virgin Olive Oil
2-3 tsp Sunhera Masala
Method
Preheat grill to 350 degrees.
Oil the grates of the grill-Drizzle olive oil on a paper towel and carefully wipe the grates with it.
Prepare the fish by rinsing in water and patting dry with a paper towel.
Drizzle the olive oil on the filets.
Sprinkle filets with the Sunhera Masala.
Turn over and repeat.
Grill for 3-5 min on first side (depending on thickness of filet.)
Turn over and grill for an additional 3 min.
Fish is done when it is white throughout but still juicy.
Remove from grill and serve immediately.
***Useful Tip***
Filets can also be cooked on the stove top in a preheated pan drizzled with olive oil. Cook about 3 min per side.