This Shrimp Risotto has all of the feels!
Not only does this shrimp risotto taste decadent and rich, but it imparts a comforting quality that warms the soul. I've made this recipe several times now because honestly, it never disappoints. Try using a homemade chicken stock such as our chicken stock recipe, or a low-sodium option from the grocery store works just fine too.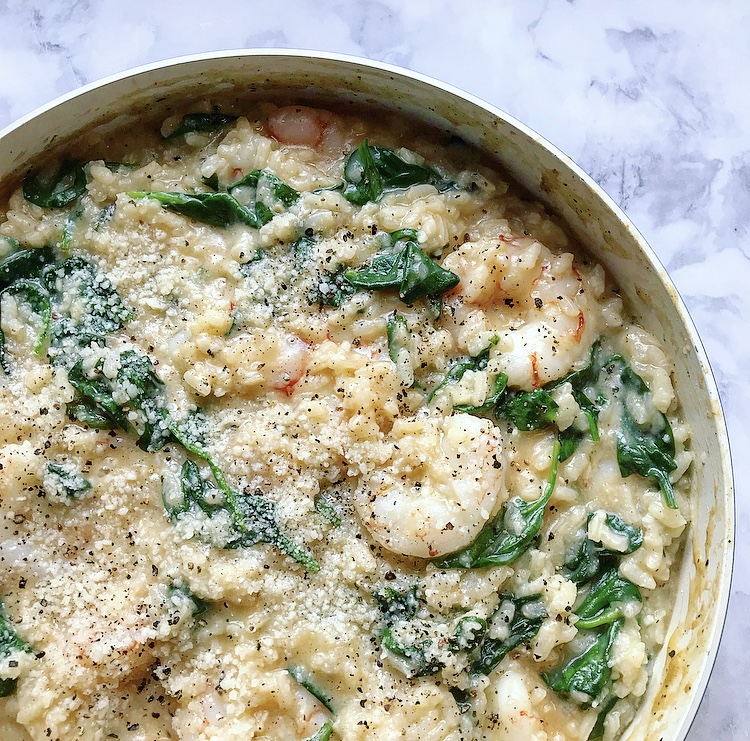 Arborio rice is a starchy grain-like rice found in most grocery stores.  The Italian word "risotto" describes the method of adding stock in batches with constant stirring. Therefore, the technique creates a porridge-like consistency, while the individual grains are slightly firm with a discernable texture.

Shrimp Risotto
This recipe is worth the stirring necessary for a deliciously rich and wonderfully creamy risotto.
Author:
Sweet It The Spice
Ingredients
6 cups chicken stock
1 pound shrimp deveined and tails removed
2 tbsp olive oil
1 cup onion diced
1-1/2 cups arborio rice
2 tbsp Chicago Joe
½ cup dry white wine (Pinot Grigio, Chardonnay or Sauvignon Blanc work well)
12 oz. organic baby spinach
½ cup Pecorino Romano cheese grated
Fresh basil and/or flat-leaf parsley
Method
In a medium sauce pan, bring stock to a simmer over medium heat.
Once simmering, add shrimp, turn off heat, cover and let stand for 3 minutes or until shrimp are opaque.
Next, transfer shrimp to a small bowl with a slotted spoon. Cover to keep warm and set aside.
Cover stock with saucepan lid to keep warm and set aside.
In a large cast-iron or large saute pan, heat olive oil over medium heat until lightly shimmering.
Add onions and saute for about 5 minutes.
Next add Chicago Joe and stir to incorporate.
Pour in arborio rice and stir for about 2 minutes or rice becomes somewhat translucent.
Add wine and stir for about 2 minutes or until wine has been absorbed.
Then add ¾ cup stock and stir often for about 2-4 minutes or until most stock is absorbed.
Continue adding ¾ cup stock at a time, stirring often until all stock has been added and absorbed.
Add in spinach in several batches and stir, allowing it to wilt before each addition.
Mix in shrimp and cheese.
Season with salt and pepper if desired.
Spoon risotto into bowls or onto plates.
Add freshly torn basil and/or parsley on top before serving. ENJOY!