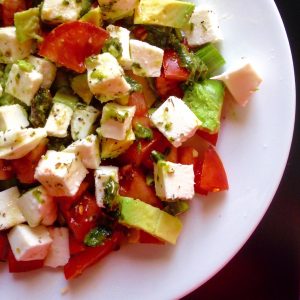 Salads come in all forms with so many variations of ingredients. This salad is simple, straight-forward, good for you and so delicious. The "heart-healthy" elements in this salad include tomatoes, avocado and garlic infused olive oil. We get ours from The Sacred Olive. It's so good, so be sure to pick up a large bottle of it.
I added a couple pieces of creamy mozzarella and a few pinches of sea salt, black pepper and our wonderfully herbaceous blend, Herbal Fusion. The end result is creamy, crunchy and down-right tasty.
Serve this as an appetizer, salad or side dish. Or have it for lunch like I did. A no-cook, quick and healthy lunch you can feel good about.

Heart-Healthy Salad
Author:
Sweet It The Spice
Ingredients
2 beef steak tomatoes or tomatoes on the vine diced
4 oz mozzarella diced
6 asparagus stalks cut on the bias in bite-sized pieces
1 avocado diced
2 tbsp. basil in a tube
1 tbsp. garlic olive oil from The Sacred Olive
1 tsp. Herbal Fusion
Pinch of sea salt and black pepper
Method
Combine all ingredients in a bowl and fold until evenly coated with oil, spices and basil.
Serve immediately.