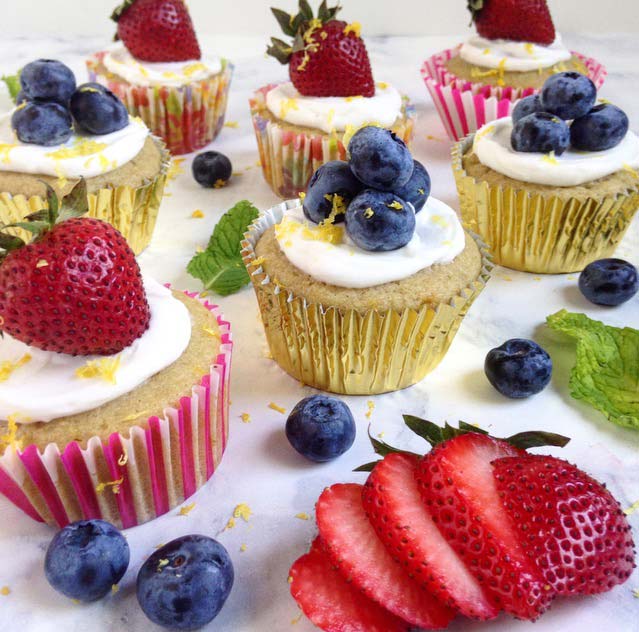 Vegan Lemon Olive Oil Cupcakes are deceptively delicious and will satisfy your sweet tooth without the guilt!

The other day, I took a break from doing computer work and had some lunch. I turned on The Food Network to find "Trisha's Southern Kitchen" had just started. Trisha Yearwood (the singer) and a friend of hers, Chloe Coscarelli, were having a recipe swap. Each of these ladies were sharing some of their favorite dishes with each other, because that's what friends do.
I was sucked in to the full duration of the show. But what caught my eye wasn't until the very end of the show… Vegan Lemon Olive Oil cupcakes with coconut whipped cream and fresh berries. I ran a checklist of pantry ingredients in my head and immediately felt the strong pull of that "new recipe vortex" literally sucking me in to the kitchen. The result just 30 minutes later were these lemony cupcakes
These vegan lemon olive oil cupcakes were anything but boring.
These cupcakes were super moist and fluffy and I was completely satisfied with how quickly they came together.  A dollop of coconut whipped cream added a really nice touch of sweetness… especially combined with the sweet and juicy blueberries and strawberries I used to decorate them with. Of course the secret ingredient, Sweet & Salty Surrender! Add an extra sprinkle of this blend on top of your cupcake for a more prominent sweet/salt profile. No artificial ingredients, no refined sugar and no dairy. Now that's my kind of cupcake!

Vegan Lemon and Olive Oil Cupcakes
This recipe was created by Chloe Coscarelli, with the exception of our Sweet & Salty Surrender blend. This is a key secret ingredient!
Author:
Sweet It The Spice
Ingredients
Coconut cooking spray
Cupcake liners
2 cups all-purpose King Arthur Flour
1 tsp baking soda
1 tsp baking powder
1 tbsp Sweet & Salty Surrender
½ cup extra virgin olive oil
¾ cup pure maple syrup
¾ cup water
2 tbsp lemon zest (about 2 large lemons)
¼ cup fresh lemon juice
1 tbsp lemon extract
13.5 ounce can coconut cream (full fat) Place in refrigerator for several hours before using. DO NOT SHAKE
¼ cup powdered sugar
Method
Preheat oven to 350 degrees.
Line 2 muffin tins with liners and spray with coconut cooking spray. Set aside.
In a large bowl add flour, baking soda, baking powder, Sweet & Salty Surrender and mix together with a whisk.
Add in oil, syrup, water, lemon zest, lemon juice and extract.
Hand whisk all ingredients until combined. Batter will be a little loose.
Using a hand scoop, fill cupcake liners about ¾ of the way full.
Bake on middle rack of oven for about 15-18 minutes. A toothpick inserted in the center of one should come out mostly clean.
Set baking tins on a wire rack and allow to cool until cupcakes can be handled.
Once cool to the touch, set cupcakes directly on wire rack and allow to cool completely.
Remove coconut cream from the refrigerator and open carefully. (Cream will have separated to the top of the can while the coconut water will be at the bottom.
Carefully scoop the cream into a chilled bowl being sure not to add any of the coconut water.
Add in the powdered sugar.
Using an electric mixer, begin to whisk cream until it resembles whipping cream in medium peaks on your beaters.
Frost cupcakes with cream and garnish with fresh berries of choice.