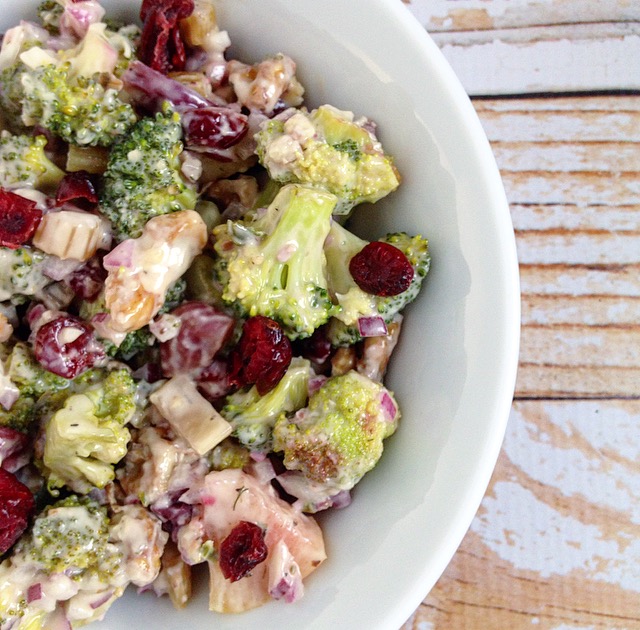 Broccoli salad with fruit and nuts is a take on the traditional broccoli salads you may have had in the past. It combines an apple, red grape and celery "slaw" with a basil and red wine vinaigrette. The walnuts give it an extra crunch while the vinaigrette ties all of the ingredients together. Of course, if the slaw and vinaigrette have already been made and looking for a way to be "re-purposed," it'll make preparing this broccoli salad a breeze.

Broccoli Salad with Fruit and Nuts
This recipe is sweet and savory with tons of texture and flavor. Perfect for a picnic, backyard bbq or party. Make a day ahead!
Author:
Sweet It The Spice
Recipe type:
Side Dish, vegetable
Ingredients
1 pound broccoli florets
⅔ cup Hellmans mayo
⅓ plus ¼ cup Basil and Red Wine Vinaigrette
½ cup or 1 small red onion diced
1 cup dried cranberries or raisins
1 cup chopped walnut pieces
Method
In a large bowl, fill halfway with ice and water, then set aside.
Using a large stockpot, boil water and add broccoli.
Blanch for no more than 30 seconds.
Remove and drain in a colander. Immediately add broccoli to ice water bath.
Allow broccoli to cool off completely before straining back through a colander.
Drain broccoli and pat dry with a paper towel.
Using the large bowl to chill the broccoli in, add mayo and vinaigrette.
Whip with a wire whisk until incorporated.
Add broccoli, slaw, onion, cranberries and walnuts and mix to combine.
Season with salt and pepper optional.
Chill in refrigerator for at least 2 hours or over-night before serving.