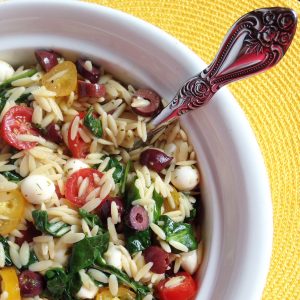 I taught my first cooking classes in April 2015.
It was a pretty exciting time to showcase in person how wonderful our herb and spice blends are to elevate flavor, even in the simplest of dishes. The menu of items to be cooked, including my Caprese Orzo Pasta, would showcase my spice blends in 2 separate, 1-1/2 hour cooking demonstrations. The menu consisted of an appetizer, 2 side-dishes, 2 entrees and 2 desserts.
During the first cooking class, French bread was burned in the oven (rookie,) which was then saved by scraping off the "burnt sections" with a knife. Additionally, four ounces of pancetta had managed to create a thick billowy cloud of smoke in the kitchen. The Caprese Orzo Pasta however, had everyone forgetting my blunders.
Caprese Orzo Pasta is not only super fresh and light tasting, it's super easy to make.
Even the least skilled cooks can create this dish with confidence. Though the pasta was created as a side dish, it truly could become an entrée with the addition of chicken, steak or shrimp. Best part about this recipe is that it can be served hot or cold…perfect for picnics or barbeques. And an unexpected treat to the typical potato salads and Jell-O. I've got nothing against potato salad or Jell-O but we're trying to be original here!
I use pearl mozzarella because they are bite-sized and alleviate the need to cut up whole mozzarella. And lets face it, the pearl size is just cute! Sweet cherry tomatoes add a burst of flavor, the arugula gives a nice peppery bite and the baby spinach is savory and full of great nutrients and phyto-nutrients.
The beauty about this recipe is that while you're waiting for the water to boil, the vinaigrette can be made along with the cutting of your tomatoes and olives. And if you're asked to bring a dish to pass at your next social gathering, you could make this Caprese Orzo Pasta the day before.
What I learned from my own cooking class.
What ties the ingredients for the Caprese Orzo Pasta together is the vinaigrette. My original recipe was a Basil and White Wine Vinaigrette. However, during my cooking class (in an olive oil and vinegar shop, called 'The Sacred Olive'-plug to my girl in FL,) I asked the owner for her "white" wine vinegar to use with my recipe. She stated that she didn't carry white wine vinegar in the store because she felt that "red" wine vinegar had a more robust flavor. Well, I couldn't have agreed with her more! There was more complexity and it added a slight fruitiness that paired well with the ingredients in the orzo.
Additionally, my recipe called for only 1/2 tsp. of garlic powder, but then realized that 1/2 tbsp. was used by mistake. But seriously, could you ever really have too much garlic? The students in the class loved the Caprese Orzo Pasta, and the staff and I couldn't stop eating it after class! Even the videographer purchased our ingredients and went straight home to make it.
Blessedly, from this day forward, I will continue to make this dish with red wine vinegar and extra garlic powder. I will also scrape off burnt sections of toast rather than throwing them away and I will open a window or door before cooking pancetta. The moral of the story is to embrace our mishaps, because perfection doesn't allow growth and wisdom to prevail otherwise.
The photo (above,) was recognized by The James Beard Foundation on Instagram.

Caprese Orzo with Greens and Olives
Author:
Sweet Is The Spice
Recipe type:
Pasta-Side Dish
Ingredients
1-1/2 cups orzo pasta cooked al dente
2 handfuls baby spinach
2 handfuls arugula or wild rocket (optional. if not using add 2 more cups spinach)
⅓ cup diced red onion
⅓ cup sliced Kalamata olives
1 cup cherry tomatoes halved
8 oz pearl mozzarella or ½ cup feta cheese
½ cup Basil and Red Wine Vinaigrette*see recipe
Method
Begin by boiling salted water in a large pot.
Cook orzo using the cooking instructions on package.
Drain.
In a large bowl combine hot orzo with spinach and arugula mixing until greens begin to wilt slightly.
Add in a splash of vinaigrette to keep orzo from sticking.
Mix in remaining ingredients being sure to distribute vinaigrette evenly.
Serve immediately warm, or refrigerate for several hours until chilled and serve cold.
Basil and Red Wine Vinaigrette
Author:
Sweet It The Spice
Ingredients
3 oz extra virgin olive oil
3 tbsp red wine vinegar
1 tbsp basil in a tube
½ tbsp garlic powder
1 tsp Herbal Fusion
¼ tsp black pepper
1 tsp sea salt
Method
Combine all ingredients together and shake in a shaker glass or whisk in a bowl.
***Useful Tip***
Make a double batch of vinaigrette and reserve half for a fresh salad or drizzle over fresh mozzarella, tomatoes and fresh basil. Also makes a lovely marinade for chicken or fish.