The Mission:
Create a dish for Memorial Day using only 5 ingredients with All-Clad's new d5 Stainless-Steel All-In-One 4 Quart Pan.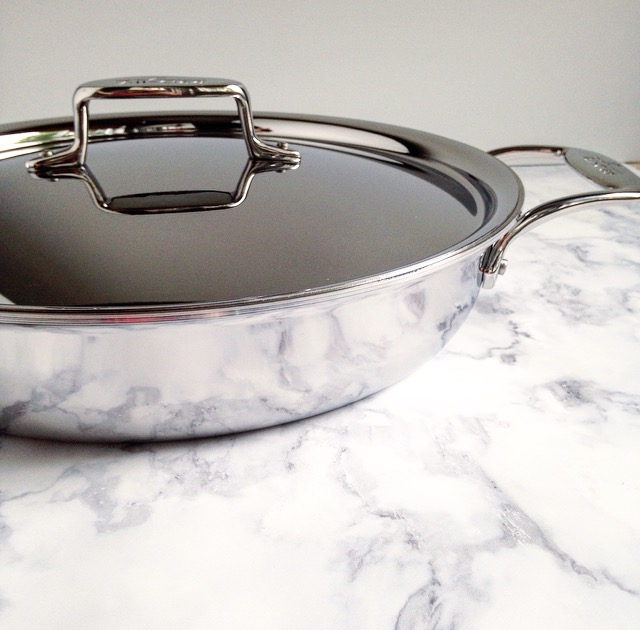 I love a good challenge. Partly because I have a competitive spirit, but also because I want to prove that I'm capable of something much more than I originally had expected in myself. If my initial efforts resulted in failure, I try again…and I keep trying until I have mastered the task.
The company, All-Clad, approached me recently to present a challenge…cook with their new "All-In-One" pan using an original recipe consisting of only 5 ingredients.  At first it seemed easy enough, until I realized that using only 5 ingredients is actually a little tougher than it seems. So I started brain-storming. I considered the meaning of Memorial Day; a day of remembrance for those who have fought and died for our country, but also a day that brings family and friends together to celebrate that day. And then what came to mind was several other things; The grill. Convenience. Easy clean-up. Variety of food choices. Entertaining. Appetizers. Grilled meats. Side dishes. I then proceeded to take inventory of ingredients I already had in my own kitchen. I wanted to incorporate savory with a hint of sweet and the versatility of this dish to be served with appetizers, as a compliment to a main ingredient or as a side-dish. What I came up with was, an apple, red grapes, celery hearts, apricot honey and my own Herbal Fusion blend. It kind of reminded me of "Taffy Apple Salad" in a way, minus the whip cream. So, I grabbed the All-Clad pan and gave it a go.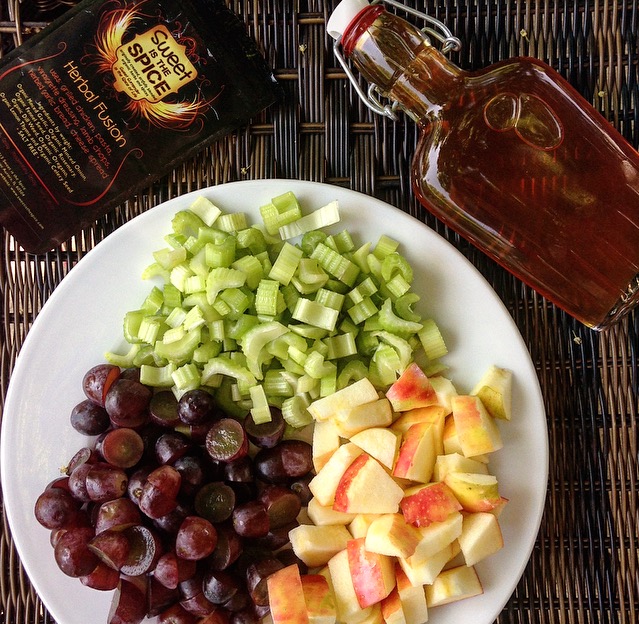 To the pan, I added 1 tbsp. of my homemade apricot honey, and set the heat to medium. I added 1 heaping cup of the red, seedless grapes and sauteed them for about 10 minutes, stirring often until they began to blister, soften and release their juices. Next, I added 1 heaping cup of the celery and allowed it to cook for about 7 min, until it started to become soft but still had a nice crunch. One honey-crisp apple (cut into chunks,) were tossed in along with 1 tsp. of  Herbal Fusion (which has lemon thyme, dill, celery seed, oregano, rosemary, fennel, minced garlic and onion). I cooked all of this together for another 10 minutes while stirring and allowing all of the flavors to meld together. Now for the taste-taste… Uh, yum! I'm not gonna lie…that Herbal Fusion kicks things up a notch. Need a little something to add to that beautiful charcuterie and cheese platter for Memorial Day? How about on top of grilled chicken breasts? Beer-can chicken? Pork chops? Pulled pork? Brisket? Now what if we just accidentally tossed in some toasted walnut pieces and some goat cheese? This would be an amazing and savory side-dish that would go wonderfully with all of the above. (Check out how I re-purposed this recipe and created a broccoli salad that's full of flavor and texture!)
Memorial Day Mission accomplished!
But wait?! I have to tell you about this pan!
The surface area is a dream. Whether you are cooking for a crowd or you're making meals for the week, a ton of ingredients can fit in this pan at the same time without over-crowding.
It provides "even" cooking. For me, this is peace-of-mind. This pan sustains heat and offers consistent heating throughout, giving you the results you need.
Sloped sides on this pan minimize splatter and help curb drips. Nobody likes a "drippy" pan!
Keeps food warm for a decent period of time (with the lid on,) without continuing to cook your dish. Sometimes coordinating an entire meal to end up hot at the same time is like a magic trick. This pan gives you a little "grace".
Non-stick surface means easier clean-up. Since I cook the meals in our household, my husband does the clean-up. I can speak for him by saying that he especially appreciates that feature and I especially appreciate not hearing a husband bad-mouth my cookware!
It has a sleek, stream-lined design and it's shiny. I gotta laugh, but it's true. Women gravitate to shiny things…but so do men. Who doesn't like the look of chrome pipes on a motorcycle, chrome interior details in a car, or chrome wheels?! This pan is fancy and handsome enough to be displayed in any kitchen, while giving any home cook or chef a little extra confidence. 😉 I know I'll be enjoying my pan for years to come plus All-Clad offers a Lifetime Guarantee!
Here are the Key Product Details for the more discerning and technical individual:
Retail price: $149.95
Dimensions: 12-1/2″ diam, 2-3/4″ high, 4-quart capacity, 6 pounds, 2 ounces with the lid
Handcrafted in the USA (YES!)
Five bonded metal layers each serve a specific purpose for a noticeable difference in cooking performance
Two aluminum layers, one to conduct and one to sustain heat
Patented stainless-steel core diffuses heat for consistent results
Magnetic stainless-steel exterior with a gleaming polished finish
Two loop side handles take up less space on stove-top and for storage.
Sloped sides minimize splattering and make the pan easy to clean
Easy-to-clean stainless-steel interior sears and browns food beautifully
Ideal for use on any kind of cook-top, including induction
Where to buy:
The Stainless-Steel, All-In-One Pan is available at Williams-Sonoma. Currently, they are running a limited 20% off discount!!! You can also visit All-Clad's website for more information.
Now for the fun part!
All-Clad is allowing me to give one of these gorgeous pans to a lucky, Sweet Is The Spice follower/reader! If you'd like to know how to enter this giveaway, along with additional ways to enter, you may choose to do any of the following:
Comment below and tell me what your favorite dish is to make for Memorial Day
Comment below and give this recipe a name! If I like it, you'll also win a large 2oz bag of my Herbal Fusion blend
Subscribe to my blog newsletter
Follow me on Instagram and in the comments, tag 2 friends
Follow me on Facebook and share the link (in your browser) with your friends
This contest is open to US residents only. Contest ends at 9pm Central time on May 31st. The winner will be announced June 1st.
———————————————————————————————————————————————————————————
And because I'm also a bit of an over-achiever, I additionally re-created one of my most favorite dishes using the All-Clad, All-In-One pan. Here I've documented my findings.
*Note-I did not include these additional findings in my original review of the All-Clad pan because it did not bear any weight on the outcome of my 5-ingredient dish.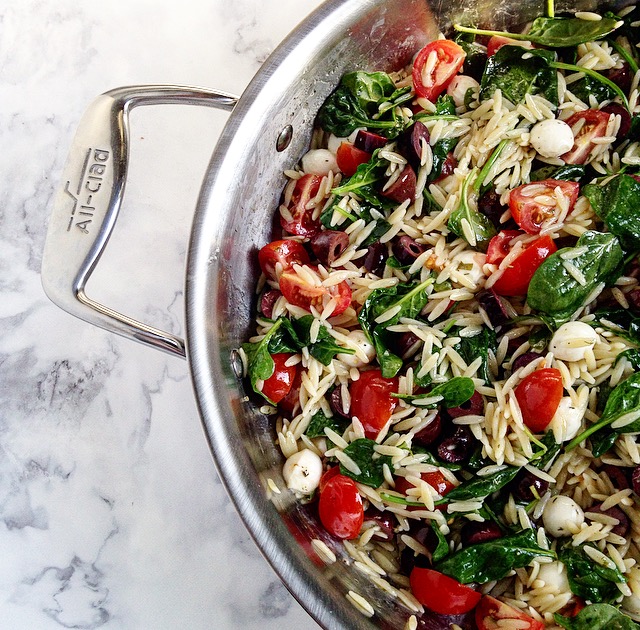 Caprese Orzo Pasta. It can be served hot or cold, is beautifully colorful, super easy to create, incredibly flavorful and can even be made a day ahead. Bonus! It incorporates a basil and red wine vinaigrette with orzo pasta, cherry tomatoes, pearl mozzarella, baby spinach and kalamata olives.
First I started by boiling water. This oddly seemed to be a challenge in itself. I added sea salt to the pan of water, set on medium-high heat and waited. I typically use a ceramic, large saucepan for my orzo in particular and usually I can get the water to boil within 5 minutes. It wasn't the case with the All-Clad pan. So I turned the heat up to high, (which in all fairness does mention this in a brochure that came with the pan). I typically don't cook much of anything on high-heat, but given the surface area of the pan (which I love so much) would make sense. Finally after about 20 minutes, I poured in 1 cup of orzo and stirred. As the water began to evaporate, I noticed "tarnished" markings all along the rim of the pan. I assumed that a good washing with a soft wash cloth and hot, soapy water would remove these markings… so I proceeded. This time, I had to use mitts as the handles were way too hot to handle with bare hands. No biggie. So I drained the pasta into a colander and turned the heat down to medium-low. I added about 2 tbsp. of the basil and red wine vinaigrette to the pan and dumped in a giant handful of baby spinach. Immediately, I added the hot orzo to the pan, over the spinach and stirred to allow the heat to begin to wilt the spinach. I then turned the heat off and added another 1/4 cup of vinaigrette, the tomatoes, olives and mozzarella. I stirred it all to combine and served my orzo hot, along side grilled chicken and my new 5 ingredient All-Clad recipe. Delicious! Check out the original "printable" version of the recipe here.
As it came time to clean the pan, any residual pasta came off very easily, however those "tarnished" markings remained. After reading the brochure again, it states that "over-heating can cause brown or blue stains or a large amount of iron content in the water may cause the pan to look rusty." It's possible that those marks were created from either or both of these issues. Hmmm. To determine the culprit, a more controlled environment would have to be conducted. I know I cannot boil water in this pan without the heat being set to "high," so the only other possibility is filling the pan with my tap water and putting the heat on medium. Since medium-heat won't "over-heat" the pan, the culprit could be the water. Boiling water in this pan may be out of the question, but in the end, I love this pan.
My thanks to the fine folks at All-Clad for this wonderful opportunity to cook with your new pan!