Barbecue Ribs and homemade BBQ sauce can easily be prepared at home with a few simple steps…making your ribs the best ribs in town.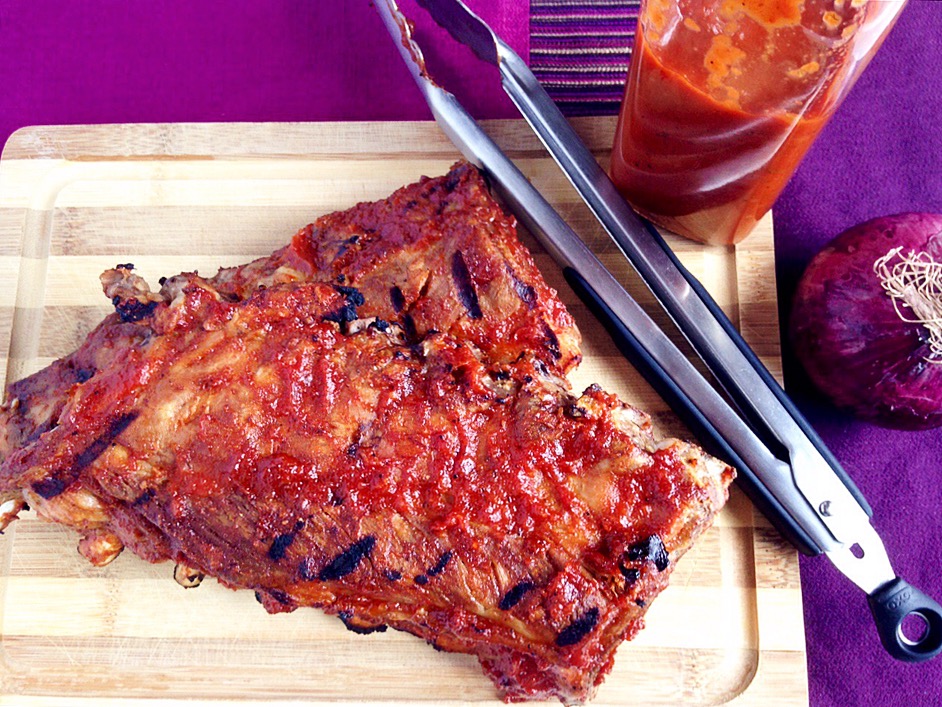 There are 2 reasons why Barbecue Ribs are dear to my heart: First of all, I love barbecue ribs and the second reason is the rib rub created. The particular combination of spices I used on my first batch of barbecue ribs, created a smoky and perfectly spicy flavor. We didn't know it then, but 'Secret Spice' had laid the foundation that kick started our business…along with a lot of prayer. 🙂
It seems like there are countless barbecue cooking contests on t.v., however I am always in awe by the amount of time consumed just in the preparation of the meat. And with the same intrigue, I am amazed by the countless hours of toiling and laboring that is done around a smoker. Unless I'm competing in a barbecue ribs contest, I want to spend the least amount of time as possible cooking ribs, and more time eating them.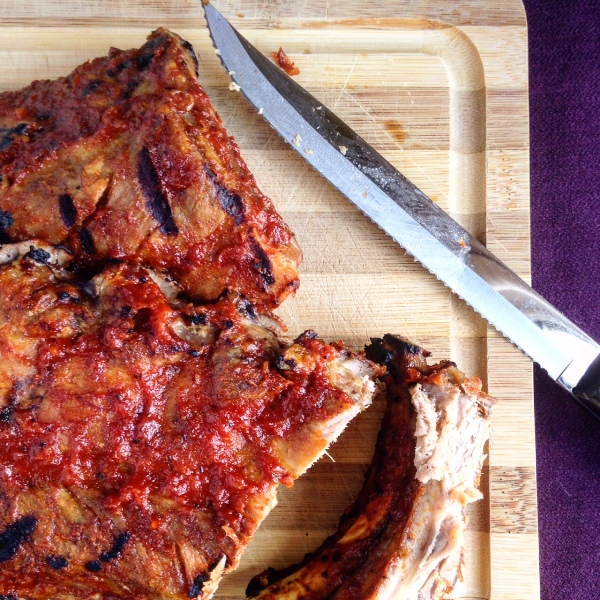 Ask anyone about the steps they take to ensure good barbecue ribs… The funniest thing is, everyone has a completely different idea and way of making them. The cooking temperature and times are different as are the methods of cooking, spices and sauces that are used to achieve the best barbecue ribs possible.
For many of you, so many options may leave you confused and exhausted by the thought of preparing your own barbecue ribs. For others, this is an opportunity for experimentation and discovery. So is there really a "right" way of preparing barbecue ribs? I say, "absolutely not!"
My personal method for cooking barbecue ribs is easy, simply braise in the oven for 1 hour and 45 minutes, then transfer to a grill to finish them off. Since we love barbecue sauce, but not all of the high fructose corn syrup and preservatives, I've also created homemade barbecue sauces using Secret Spice. My husband and I like our barbecue ribs tender and juicy, but not falling completely away from the bone. When we take a bite, we want to see a bite mark. We like to eat ribs with our hands, not with a fork and a knife. And, we like them saucy, accompanied by a lot of paper towels. The best part about ribs is that you can tailor the recipe to suit your needs.
Once you see how simple it is to make your own barbecue ribs, you'll be making them all summer long.
Sweet Is The Spice Barbecue Sauce
Author:
Sweet It The Spice
Recipe type:
Sauce, Condiment
Ingredients
2 garlic cloves chopped
⅓ cup shallot chopped
1 tbsp. olive oil
1 tsp. sea salt
½ tsp. black pepper
15oz tomato sauce
⅓ cup organic maple syrup
1 tbsp. molasses
1 tbsp. Dijon mustard
2 tsp. Worcestershire
1 tsp. Spicy Barbacoa
2 tsp. Secret Spice
2 tsp. Herbal Fusion
Method
In a large pot, sauté garlic and shallot with olive oil, sea salt and black pepper for about 3 minutes on medium heat.
Add in all remaining ingredients. Once bubbling, turn heat to medium-low and simmer for 20 minutes, stirring occasionally.
Use an immersion blender (or food processor) to smooth out the sauce and blend up any chunks.
Use immediately on barbecue ribs or allow to cool before transferring to the refrigerator.
Store in a glass jar or bottle for up to 2 weeks.
Barbecue Ribs with Homemade Sweet Is The Spice Sauce
Author:
Sweet It The Spice
Recipe type:
Entree, Pork
Ingredients
1 rack of pork ribs (about 15 ribs)
½ cup apple cider vinegar
1-1/2 cup water
Method
Preheat oven to 350 degrees.
Prepare ribs by removing the membrane from the underside. See video.
Cut ribs in half by creating 2 separate portions.
Pour water and vinegar into a 9x13x2 inch baking dish.
Add ribs to baking dish and tightly cover with foil.
Braise on middle rack of oven for 1 hour and 45 minutes.
Remove from oven, remove foil and discard liquid.
Heat a grill to 350 degrees.
Add ribs top side down and slather the underside with barbecue sauce using a brush to distribute evenly.
Heat for 3 minutes, then turn over.
Slather top side with sauce and heat for 3 minutes.
Repeat this 1 more time adding an additional layer of sauce.
Remove and enjoy!
Spices to buy: