In the summer of 2014, my husband and I took a trip to San Diego, CA to visit my husband's mother and step-father. As we approached their house, I was astounded by the obscene freshness and divine opulence of produce growing everywhere. An avocado grove graces their front yard along with several Tangelo trees. Facing the front of my in-laws home is a grapefruit grove with citrus the size of your head and super juicy to boot. And the neighbor who lives past the berm and down the hill behind my in-laws house was in the process of preparing his yard for a vineyard! I was intrigued, captivated and engrossed by the abundance of food that surrounded me. Usually I get that way standing in a grocery store here in the Midwest, but the produce section was at my reach right here in nature.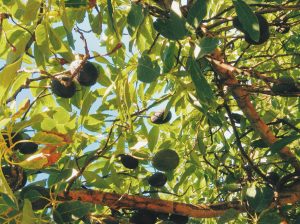 Since we arrived late in the afternoon, we were anxious to eat, drink and visit. The avocado picking would have to wait, and so would the spicy guacamole. That night as I lay in bed, I couldn't help but think of the plethora of recipes I could make with those avocados. Chocolate pudding, avocado tartines, salads, smoothies, and best of all spicy guacamole. My creative juices were flowing and my mind racing. From one woman to another, physical exhaustion is no match for our brains…because they don't shut off. Nothing short of a heavy dose of wine or cough medicine could keep us from thinking at a time we should be relaxing. (Men are so different than us, aren't they?) Morning came, and the smell of fresh coffee and gorgeous views had my husband and I bee-lining for the patio. We sat and reveled in the beauty of the avocado grove.
Later that morning, we armed ourselves with cotton strapped bags and headed into the avocado heavens. The sun was shining gloriously down upon us as we filled our bags to the brims.
(Choose ripe avocados by removing the "belly-button" to reveal a grey-brown color. Yellow is not ripe and black is over-ripe.)
As we poured out our bags onto the kitchen counter, I reminisced of my childhood. Halloween bags filled with candy and of our eyes as big as saucers. Then the task of mom or dad checking, sorting and organizing our treats before we could partake in the efforts of our hard work. Remembering how it felt to have to be patient and resist the urge to overdose on candy. Funny how we grow into liking things we couldn't appreciate as a child. Ironically, I couldn't help but feel like a child with all of these beautiful avocados at my reach. Good memories. And of course, the first thing I had to make, was spicy guacamole…naturally.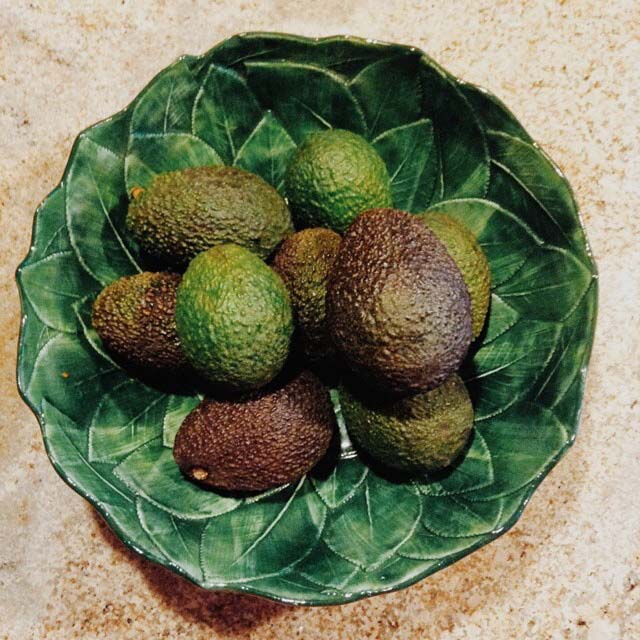 This recipe uses our 'Spicy Barbacoa' blend Here is my recipe for Spicy California Guacamole:

Spicy California Guacamole
Author:
Sweet Is The Spice
Ingredients
7 California grown avocados (skin and pit removed)
1 can fire roasted tomatoes (straining most of the liquid)
1 medium red onion diced
1 yellow pepper diced
1-2 limes juiced
¼ cup cilantro chopped

2 tsp. Spicy Barbacoa

Sea salt to taste
Method
In a large bowl, add the avocados and roughly mash with a fork or potato masher.
Fold in all remaining ingredients until well-distributed.

***Useful Tip***
For preserving your guacamole and keeping it from turning brown in the refrigerator.

Put your guacamole in a glass container. Press it down and even out the top with a spoon. Fill the top of the guacamole with slightly warm water until it is completely covered. Close up with a tight-fitting lid and refrigerate. When ready to eat again, pour out the water and mix with a spoon. Your guacamole should look as good as new.