When a dish like Grilled Salmon and Lemon Garlic Spaghetti come along, you eat lots of it and then blog about it.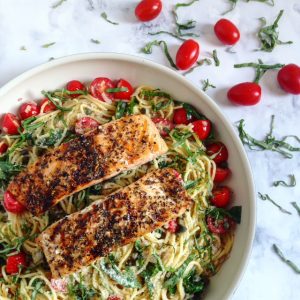 If you eat as much salmon as we do, it's nice to find alternative ways to enjoy it without the monotony. This Grilled Salmon and Lemon Garlic Spaghetti will "wake up" your taste buds and have you asking for more.
The perfect weekday meal should consist of the following: simple ingredients, light prep work and dinner on the table in under 30 minutes. Am I right? Best part is, the Lemon Garlic Spaghetti is interchangeable with any of your favorite protein! The key element to this dish is the simple Lemon Dressing. I use 1 quarter cup of freshly squeezed lemon juice to give it just the right amount of lemony goodness. Do you love fresh salads? Then make sure to whip up a double batch because it makes a wonderful salad dressing as well.
Here is the recipe for Grilled Salmon and Lemon Garlic Spaghetti! Enjoy!
Grilled Salmon and Lemon Garlic Spaghetti
A quick yet simple weekday meal full of fresh flavor.
Author:
Sweet It The Spice
Recipe type:
Entree, Seafood, Pasta
Ingredients
Lemon Dressing
3 oz olive oil
¼ cup fresh squeezed lemon juice
1-1/2 tsp Dijon mustard
½ tsp sea salt
¼ tsp black pepper
2 tsp Herbal Fusion
Grilled Salmon
4 salmon filets thawed without the skin
4 tsp olive oil (1/2 tsp per side of salmon)
½ tsp Chicago Joe (per side of salmon)
½ pound spaghetti
1 shallot diced
3 garlic cloves minced
½ tsp lemon zest
1 tbsp capers
2 handfuls arugula
7-8 basil leafs chopped
1 pint grape tomatoes
Optional: grated parmesan cheese on top of pasta
Method
In a shaker cup, add dressing ingredients and shake.
Or, in a measuring cup, whisk ingredients together.
Preheat a gas grill to 350 degrees.
Oil salmon and sprinkle spices on both sides. Set aside.
In a large pot, fill with water and add ½ tbsp sea salt.
Place on stove and get water to a boil.
Add in pasta and cook according to instructions on box.
Once grill is heated, add salmon onto grates and cook for 3 min.
Turn 45 degrees and cook for a minute longer.
Carefully turn salmon over and cook for an additional 3 minutes.
Salmon is finished cooking when meat flakes with a fork.
Drain pasta once al dente.
Add arugula to pot followed by drained pasta.
Add all other ingredients along with lemon dressing and toss until well distributed.
Plate pasta, followed by salmon on top.
Serve.