"Low and slow," as they say, is the key to amazing pulled pork in the slow-cooker.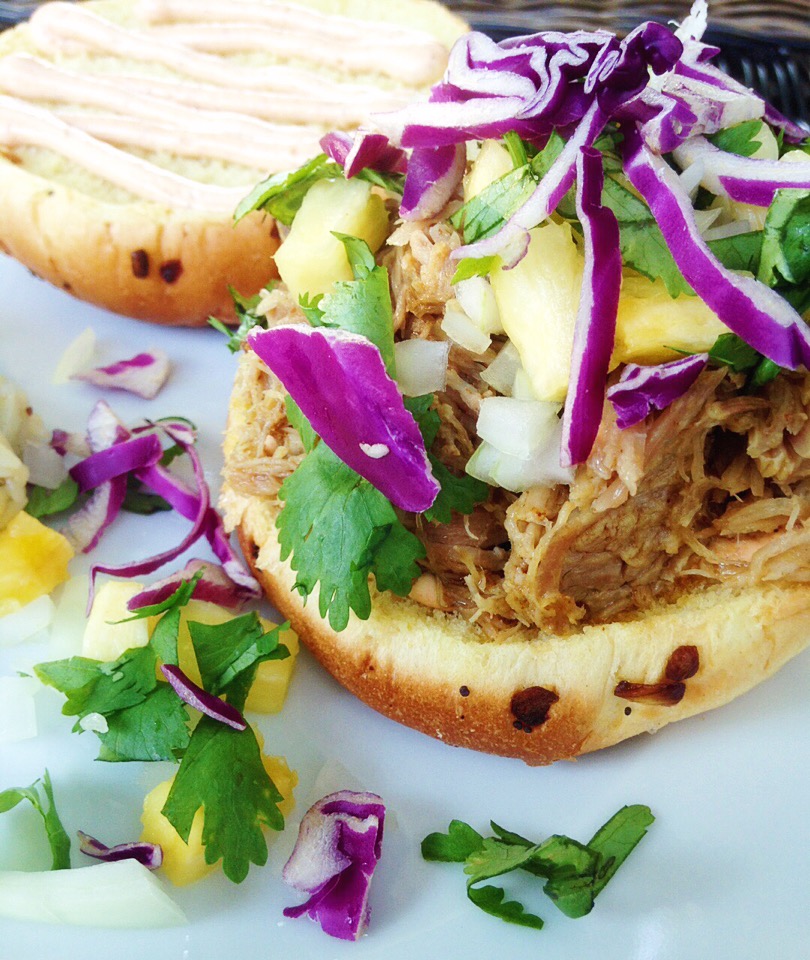 The 1970's was a time of invention and revolutionary ideals. This decade contributed to women's liberation, environmental awareness, black holes, disco, lava lamps, water beds, hippies, microprocessors, big hair and an invention that would change the way households cooked at home…the slow-cooker.
Women in the 70's were becoming more "forward-thinking" as they organized protests and marches, rallying to provoke equal rights in the workforce. They were definitely not as concerned as their mother's were in the 1950's when their career goals were prepping the kids off to school, serving dinner "on time" and perfecting pulled pork in the oven with their high heels on. Women were looking for equality in the workforce.
Enter the slow-cooker.
Irving Naxon created the slow-cooker and sold his business to Rival Manufacturing in 1970. In 1971, the slow-cooker was reintroduced under the Crock-Pot name. Smart man… and just in time, since 1970's kitchens were looking more and more like the old west with the proverbial tumbleweed blowing by.
I can just imagine the commercial, with a man's voice prompting, "Now, you too can have your slow-cooker pork ready and cooked to perfection…even after a day's worth of work. Dinner is served."
My mom married in the 1970's and cooked meals for my dad when I was just a baby. However moving into the 1980's, my mom found herself working outside of the home as well. She had a slow-cooker that I feel was used often and mostly with the ever permeating smell of pot roast…a dish my father truly enjoys. I honestly don't recall slow-cooker pulled pork being served, (sadly,) which is probably why I have such a propensity for it as an adult! Just the smell of pot roast brings me to the days of my parents congregated in the kitchen in a flurry of paperwork, calculators and tax forms preparing for April 15th. That day has been so ingrained in my brain that every time pot roast was cooking in the slow-cooker my sister and I figured mom and dad were preparing their taxes! Or the rainy days that held a chill in the air and all of the windows and doors were shut. As kids I recall literally being stifled with no where to escape from the heavy aroma of "pully-apart-meat," (as we called it,) mushy carrots and yucky peas, (all adjectives used as a 7 year old would,) that exploded in your mouth with beefy and slightly gelatinous juice. Seriously, it was the most torturous meal to be served to us kids. Scarred, yes…and haunted by the lingering aroma…forever. As an adult I get to make the decisions in the house about what my husband and I will have for dinner. One thing is certain, my slow-cooker will never have pot roast in it. Ever. Sorry mom!
I love to cook. I love to labor in the kitchen (without high heels) and create. I love to experiment and try new techniques. However there are those certain times when I'm really busy with the business and life in general and don't have time to cook. These are the times I love to pull my slow-cooker out and make pulled pork. It's the perfect meal to make in the summertime which means leaving the oven off, and it freezes nicely too. "Low and slow" for 10 hours makes amazing pulled pork sandwiches, Al-pastor tacos, pork burritos, shredded pulled pork quesadillas, shredded pork with spicy ramen noodles or pork nachos. It's hard to get tired of slow-cooker pulled pork, especially when the possibilities are endless!
At my house, the aroma of "heavenly scented" pulled pork is cooking in my slow-cooker. What's cooking in your slow-cooker?

Pulled Pork Perfection in the Slow-Cooker
An 8lb bone-in pork shoulder can take about 10-11 hours on a low setting in the slow-cooker. Or, about 7-8 hours on high. The meat is cooked nicely when it is easy to shred with your fork and falls away from the shoulder bone easily.
Author:
Sweet It The Spice
Recipe type:
Entree, Pork
Ingredients
6lb-8lb bone-in organic pork shoulder
¼-1/3 cup Secret Spice
¼-1/3 cup Spicy Barbacoa
Method
Mix spices together in a bowl.
Dry rub the meat generously making sure to coat the whole pork shoulder.
Place pork in the slow-cooker with the "fat side" facing up. (This allows the flavor and juice to run down and cook into the pork.
Turn slow-cooker on low or high and cook for 7-8 hours or 10-11 hours according to doneness of the meat.
Put the lid on and go your merry way.
Once done, leave in the slow cooker and shred with large forks by pulling the meat apart. Discard any fat.
Leave the pork in it's juice and add more spices if desired or strain half and add bbq sauce, more spices and serve.
For our pulled-pork sandwich we used an onion Kaiser roll, diced white onion, diced pineapple, chopped cilantro and purple cabbage. We used one of our favorite condiments, "
The
Sauce," which you can get the recipe here.
To purchase Secret Spice or Spicy Barbacoa, click on the highlighted name!