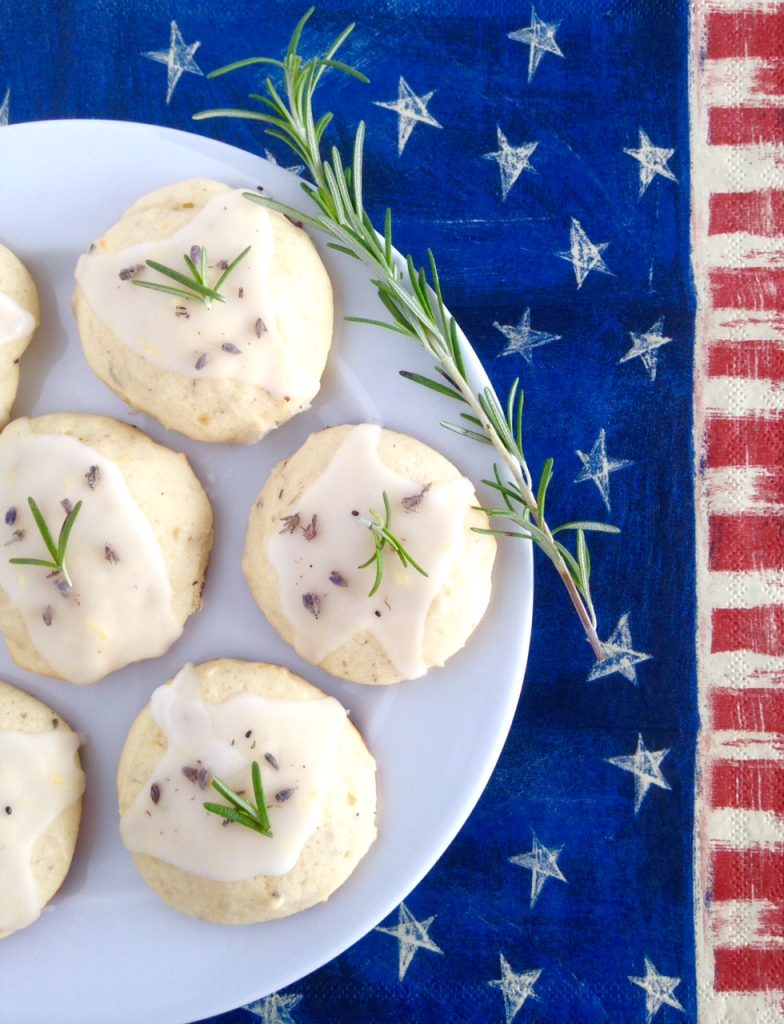 Lemon, Lavender and Rosemary Ricotta Cake Cookies definitely don't scream "Americana," but I'm a "proud cookie" to give you the recipe and I'm absolutely and definitely blessed to be an American.
I wake up every morning in the comfort of a safe home next to my husband, plan my work days at my discretion, cook and bake with an abundance of food right at my fingertips and enjoy the company of many friends and family on a regular basis. Now some of you might think these are normal and basic occurrences, which in fact, you are correct about, but there are so many people in this world who don't have "my normal" or "your normal" right now. I personally feel these kinds of daily occurrences are often over-looked because it is what we are used to and what is clearly conceived as "normal" to us. Countries such as Syria, Pakistan, The Democratic Republic of Congo, South Sudan, Libya, Ukraine, Iraq, Nigeria and Israel are in daily conflict/turmoil where war is active and many are dying, or are facing famine and losing loved ones due to malnutrition and starvation. Where I sit right now, that is clearly not my "normal" and I am feeling greatly blessed to be an American.
September 11th is a perfect example of the pain, loss and devastation that America has suffered. However the true strength in our country did not come from "in office…" it came from within our homes. Stories of heroism flooded the news, organizations donated time, goods and money to help rebuild "ground zero" and help those who experienced personal loss. Communities from near and far came together and flocked to New York to help clear debris, search for lost individuals and lend a hand in any way possible. This is a country who came together when "Lady Liberty" needed it the most. This is where I can say I have pride for my country and pride to be an American. Quite frankly, I've had a difficult time trying to tie in a new blog post along with a new recipe because the meanings behind this holiday speak to me on a level much greater than food. I could've made a cherry pie or cake with latticed dough or frosting resembling that of our countries flag. Or made cute little white cupcakes with red and blue sprinkles. I could've been cliché, but that just isn't my style.
Our country became independent on the 4th of July nearly 240 years ago. A date we can still celebrate and embrace today. It definitely wasn't the day America discovered the cheeseburger and potato salad at a family barbeque! Though these kinds of foods seem synonymous with celebrating the 4th, (and there is absolutely nothing wrong with partaking in them on the 4th,) my focus was with my family and friends. Even the grill got a day off! This last weekend was in fact celebrated with cocktails and different finger-foods of all kinds…especially my new Lemon, Lavender and Rosemary Ricotta Cake Cookies. It was agreed upon that the recipe for these cookies are delicious and should be shared on my blog, however several other things were agreed upon as well; we live in a great country…a country we should have pride in regardless of it's imperfections. Nothing in life is perfect. We live in a land of opportunity, abundance and beauty and there is no better place to live than in The United States of America.

Lemon, Lavender & Rosemary Ricotta Cake Cookies
This recipe is adapted from Giada De Laurentiis
Author:
Sweet It The Spice
Ingredients
2-1/2 cups King Arthur all-purpose flour
1 tsp. baking powder
2 tsp. Sweet & Salty Surrender
3 tsp. lavender buds finely crushed
3 tsp. fresh rosemary finely chopped
1 stick unsalted butter at room temperature
2 cups granulated sugar
2 eggs at room temperature
1 (15oz) part skim ricotta cheese
Zest from 1 whole lemon
¼ cup fresh lemon juice
ICING:
2-1/2 cups fine powdered sugar
Zest from 1 whole lemon
3 tbsp. fresh lemon juice
Method
Preheat oven to 375 degrees.
Mix first 5 ingredients together in a medium bowl then set aside.
Using a hand mixer, blend butter and sugar together until creamy.
Add 1 egg and blend until incorporated.
Add 2nd egg and blend until incorporated.
Add in ricotta, zest and lemon juice and blend until incorporated.
Using a large spoon, combine the wet ingredients to the dry ingredients and mix until all ingredients have been incorporated together.
On parchment lined 13X9 baking sheets spoon about 1 tbsp. of batter about an inch apart from each other. (15 cookies will fit on 1 baking sheet.)
Bake for about 14-15 minutes.
Remove and let cool completely on a wire rack.
-------------
Prepare icing.
Add sugar, zest and juice for icing in a medium bowl. Mix with a spoon.
Set parchment, foil or wax paper underneath each wire rack with cookies on them.
Spoon icing on top of cookies allowing icing to run down the sides.
Optional: decorate tops of cookies immediately with more lemon zest, lavender and rosemary.
Allow the glaze to harden completely on each cookie before handling and containing.
Get our
Sweet & Salty Surrender blend here!