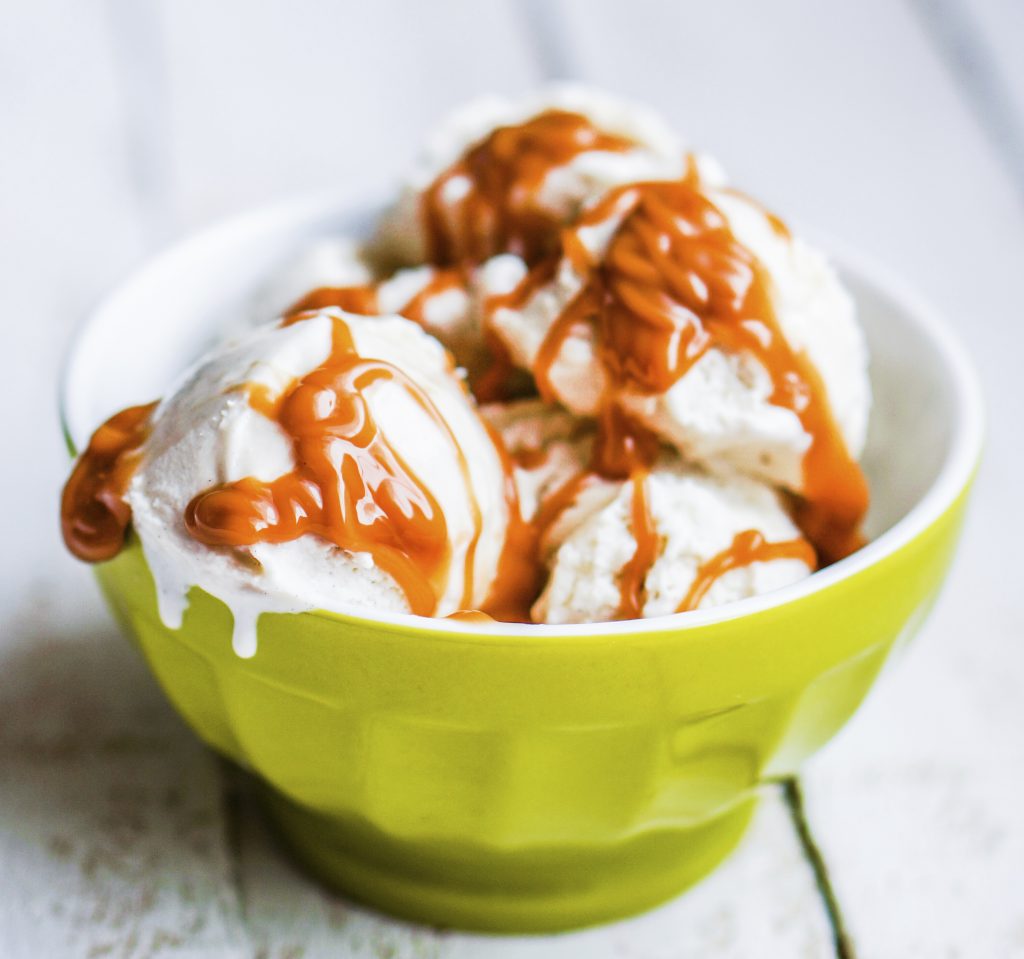 Salted Caramel Sauce is way easier than starting a blog. It only takes 5 ingredients and 15 minutes!
This is my first post about salted caramel sauce, and if you're reading it right now, then I have managed to do what I thought was close to impossible for me…start a blog. This entire process so far has been a real character builder. And to tell you the truth, all I want right now is ice cream with salted caramel sauce. But as I've spent countless hours trying to make sense of all the different "widgets" and "plug-ins" used to create a blog, I reminisce my first attempt at making salted caramel sauce. And as the saying goes, "if at first you don't succeed, try, try again".
While bubbling vigorously in toasty caramel-y satisfaction, I turned my back on the caramel…and burned it. I burned my "nonstick" saucepan horribly too and in my state of panic I quickly grabbed the closest cooking utensil within reach and scraped the pot all to hell with a stainless steel spatula! My poor "nonstick" pot. (I say, "nonstick" jokingly because caramel will stick to anything with a surface and no pot is a match to hot, scalding and burnt caramel goo.) If my "fight or flight" reaction had not kicked in prematurely, I could've avoided ruining my pot simply with hot water.
Shear seconds stood between me and a successful batch of salted caramel sauce on the first try. But I'm not one to give up too easily at anything I put my mind to. My second batch was delicious. All this to say that making salted caramel sauce in retrospect is so much easier than starting a blog. I highly suggest you go and make a jar full of this stuff.  It's like gold and makes me happy just thinking about it.
This recipe uses our Sweet & Salty Surrender blend which incorporates an organic maple infused cane sugar and a maple infused sea salt. It can be purchased online through our website, and makes a ton of other delicious recipes.
Salted Caramel Sauce
Author:
Sweet Is The Spice
Ingredients
¾ cup sugar
3 tbsp Sweet & Salty Surrender
¼ cup water
3 tbsp unsalted butter
¾ cup heavy whipping cream
Method
Stir sugar, Sweet & Salty Surrender and water together in a large saucepan on medium to high heat.
Stir and scrape bottom of pan until all sugar has dissolved, about 1 minute. Then, allow mixture to boil.
Once boiling, set timer for 10 minutes until mixture turns a dark amber color. Watch pot carefully but do not stir.
Turn heat to low and carefully and slowly add in the heavy whipping cream while whisking until combined.
Lastly, add in butter and stir until completely melted.
Take off heat and allow to cool in a dish or a 2 cup mason jar with the lid off.
Once cooled, store in the refrigerator for up to 2 weeks.
Reheat in the microwave for 30 seconds or so before each use.