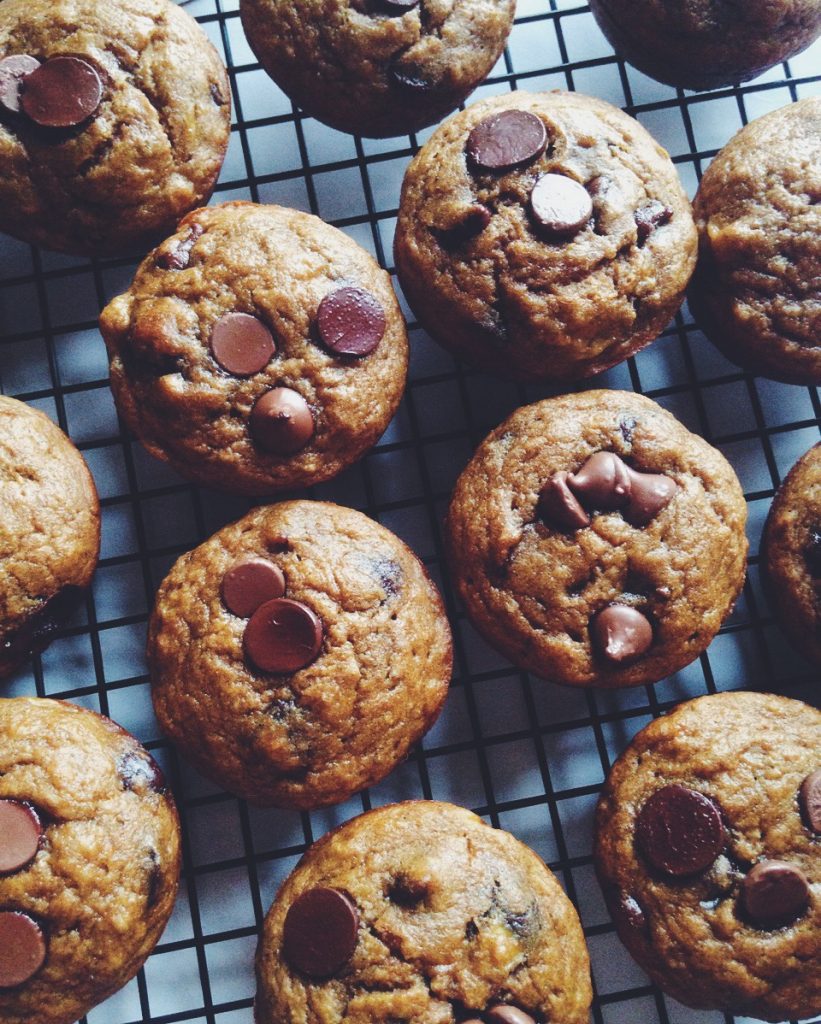 Banana Chip Muffins are made with 3-1/2 bananas and are perfect for using up super ripe bananas!
I love these Banana Chip muffins! Hence, I love bananas. I love bananas so much that if I was stranded on a deserted island, and only had bananas to eat, I would eat them everyday and be perfectly happy. Bananas on pancakes, sliced on top of  yogurt, oatmeal, and toast with peanut butter. Banana ice cream, cake, the ever classic banana bread, bananas dipped in chocolate and frozen on a stick…endless possibilities.
Since last October 2014, I've managed to maintain a consistent workout regiment. I drink on average, 2 protein shakes a day and most of the time I'll put a half or a third of a sliced frozen banana in my shake which makes it so creamy. Bananas have tons of potassium and keeps my muscles from cramping up. On the flip side, I also love these Banana Chip Muffins! There always seems to be 3-4 bananas that never get eaten and are ripened to the point of "blackened." Is it my subconscious that is secretly plotting against me, and not to finish all of the bananas in their "naked" state? I don't want to sabotage myself with "baked goodness," but eating a super ripe banana by itself is kind of gross. However it's almost inevitable that I will end up making a sweet treat from the likes of these bananas like these Banana Chip Muffins or Sweet Is The Spice Banana Bread. The thought of waste to me is not an option. Or, is it my husband who's ploy is to "conveniently" avoid the bananas so that I would then inevitably make something sweet and delicious? He knows I love my bananas, but also knows there's only so many a girl can eat! (Did I tell you that my husband has a sweet tooth?)
A few weeks ago, I got out of bed after my husband left for work, and went down to the kitchen. Moved from their original spot was 4 blackened bananas sitting exactly center on the countertop. Funny that my husband was clearly aware of the bananas in their blackened state. I thought I was trying to share with him, by leaving a few for him to take to work. This my friends is what I like to call, "non-verbal communication". As if to say, "um honey?" "These bananas are pretty ripe…why don't you make something with them?" And I thought to myself, "oh, yeah…I should make something with these bananas so that I don't waste them. But in a way, I felt like "the force" was with my husband, because I immediately turned on the oven and made Banana Chip Muffins. After the last Banana Chip muffin was removed from the pan I realized, I was Jedi mind-tricked.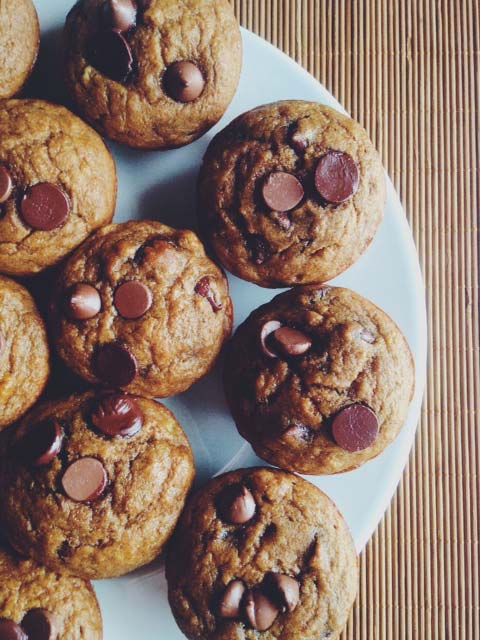 Well, here we are in the same position with 4 bananas ripened beyond regular consumption. It never fails. So, when life gives you ripe bananas, make Banana Chip Muffins! It's a nice change from making banana bread. A little dollop of fresh whipped cream or cream cheese frosting would make these very decadent…if you're in that kind of mood. This batch of Banana Chip Muffins was whipped up in under 30 minutes and turned out really good. If you've got some bananas that need to be used up, let me communicate something to you, "you should totally make these!"
Be sure to pick up our Sweet & Salty Surrender blend for this recipe!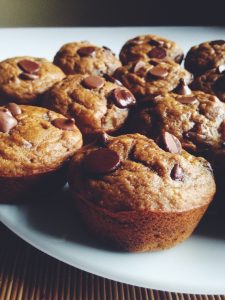 Bananachip Muffins
Author:
Sweet It The Spice
Recipe type:
Breakfast or Dessert
Ingredients
1-1/2 cup King Arthur all purpose unbleached flour
½ cup unrefined organic coconut palm sugar
2 tsp. baking powder
½ tsp. baking soda
2 tsp. Sweet & Salty Surrender
2 eggs
3-1/2 really ripe bananas
¼ cup water
¼ cup coconut oil
2 tsp. real vanilla
1-1/4 cup Ghirardelli 60% dark chocolate chips
1-1/4 cup Ghirardelli milk chocolate chips
Method
Preheat oven to 350 degrees.
In a large bowl, mix first 5 ingredients together and set aside.
In a medium bowl, whisk the eggs, then add the bananas mashing them with a fork.
(Leave some chunks of banana)
Add in water, oil and vanilla and mix.
Combine wet ingredients to dry ingredients and mix thoroughly.
Add in chips and mix again.
Spray muffin tins with coconut spray and fill each ¾ of the way up.
Bake for approximately 15-18 min. Rotating the pans from the middle to the bottom.
Insert a toothpick into a muffin to check for doneness. No batter should remain.
Cool in tins for about 15 min and cool remaining time on a wire rack.