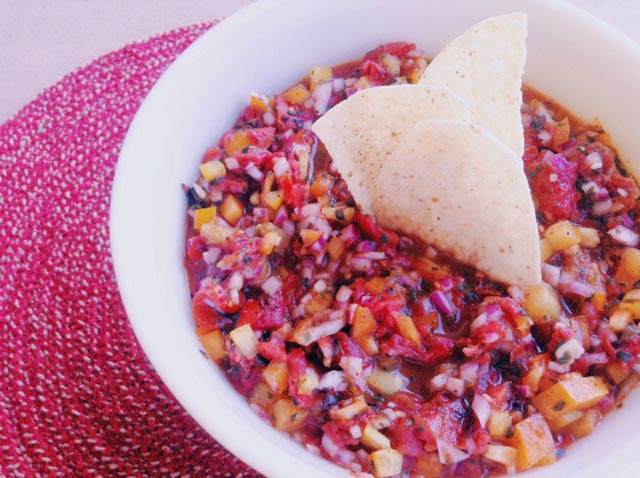 Fire-Roasted Tomato Salsa is the perfect appetizer to serve Dad on Father's Day.
My Dad can do anything. He's the "silent and unseen" teacher who taught "The Avengers" everything he knows. He doesn't wear a cape to be incognito and because he's not a show-off. He can leap tall buildings in a single bound, move mountains with his mind and can lift a car with one hand. My Dad can totally beat up your Dad…no doubt. He is the ultimate protector, supporter and defender of me. Well, I guess you can say these were the notions I had of my Dad when I was a kid. It was a perception that I conjured straight out of books and movies and put my Dad's face on every superhero I knew something about. You could say it was my distorted and blown-out-of-proportion image of a man who unintentionally gave the impression that he was basically omnipotent. But what can I say, the man was physically capable of many activities, knowledgeable about many topics and was always very talented.
When he wasn't leaping tall buildings, there were the occasions when Dad prepared our school lunches. My sister and I would get hand-drawn and doodled pictures with little notes on them found in our lunch bags. Some of the images looked just like our cereal boxes from that morning, (think Captain Crunch and Cookie Crisp.) One of my favorite drawings was of a man standing in a fishing boat. He was holding a fishing pole with the line in the water and a worm on the end of the hook. Swimming nearby was a shark, smaller fish and starfish. They all had funny faces and "word bubbles" coming from their mouths that was reminding each other to, "make it a great day!" (Now that I think about it, those pictures had some pretty funny irony attached to them.) Those little notes of kindness and love have been kept over the years. I would be hard-pressed to say that my sister didn't keep her notes from Dad in a scrap book like I did.
Dad was a wizard when it came to mealtime. He could literally clean out the fridge and create the most unconventional concoctions…and they would taste good. We ate liver sausage, onions and hot giardinera on toast with an egg over easy. Ta-Dah! Breakfast. (I was fascinated the first time I had seen an egg cook in the microwave!) Or make fried noodles from last nights spaghetti with leftover "meat," peppers, spices and hot sauce. Wa-Lah! Dinner. (I bet this Fire-Roasted Tomato Salsa would've been a good addition to either of his concoctions!) He was inventive and made good use of the food we had in the fridge, all the while never turning on an oven. Not only was he good at repurposing food, he was economical too.
As a child, the only things I can say my Dad wasn't good at was putting our hair up in a ponytail. And he picked out clothes for my sister and I as if he were color-blind. My sister and I were never personally scarred from those traumatic moments, (thank God,) we just figured that Dad was way better at other things and he wasn't trying to make us ugly. "E" for effort, Dad…hey, draw us one of your funny pictures instead!
As an adult, I want nothing more but to commemorate my Dad on Father's Day for all of his idiosyncrasies and nuances… All of his hard-work, support, love, effort, sense of humor, crappy ponytails, bad outfits and liver sausage sandwiches. Though I know for a fact that my Dad would never beat up your Dad, have the ability to lift a car with one hand, jump a tall building in a single bound or move a mountain with his mind, I sorta feel like he really can. He's my Dad.
Here's some Fire-Roasted Tomato Salsa to celebrate the day.

Fire Roasted Tomato Salsa
Here's a little something to get the Father's Day party started!
Author:
Sweet It The Spice
Ingredients
1 can fire roasted tomatoes (strain most of the liquid)
¾ cup red onion diced
1 cup yellow pepper diced
3 tbsp. fresh lime juiced
2 tbsp. fresh cilantro chopped
2 tsp. Spicy Barbacoa
Sea Salt to taste
Method
Mix all ingredients in a large bowl.
Refrigerate for at least 1 hour before serving.
----------
Can also be made the night before.
One of my Dad's favorite spice blends is Spicy Barbacoa. If you're a son or daughter, treat your Dad to this great flavorful and spicy blend.